In recent years, there has been a notable shift in consumer consciousness towards more sustainable and eco-friendly choices. This paradigm shift extends beyond just food and transportation; it encompasses the very clothes we wear, giving rise to the concept of eco-friendly activewear.
Today, we will discuss Eco-friendly activewear manufacturers. But before that, let's know why Eco-friendly activewear is manufactured.
Eco-friendly activewear is designed with a commitment to minimizing its environmental impact throughout its lifecycle, from production to disposal. This type of clothing is crafted using materials and manufacturing processes that prioritize environmental sustainability and social responsibility.
The primary materials used in the production of eco-friendly activewear often include recycled polyester, organic cotton, and sustainable blends. These materials not only reduce the demand for virgin resources but also help mitigate the environmental damage caused by traditional textile production.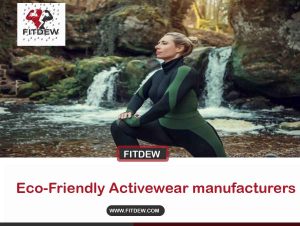 The impact of activewear on the environment
Here are some key aspects to consider
Material Selection
Positive Impact: Some activewear brands have started using sustainable and eco-friendly materials such as organic cotton, recycled polyester, and plant-based fibers. These materials often have a lower environmental impact compared to traditional synthetic fabrics.
Negative Impact: Many activewear items are made from synthetic materials like polyester and nylon, which are derived from petrochemicals. The production of these materials can contribute to pollution, greenhouse gas emissions, and resource depletion.
Manufacturing Processes
Positive Impact: Some brands are adopting more environmentally friendly manufacturing processes, such as waterless dyeing techniques and using renewable energy sources in production.
Negative Impact: Conventional manufacturing processes, such as dyeing and finishing, can involve the use of harmful chemicals and large amounts of water. These processes contribute to water pollution and can have detrimental effects on ecosystems.
Supply Chain and Transportation
Positive Impact: Brands that prioritize local sourcing and production can reduce the carbon footprint associated with transportation.
Negative Impact: Activewear is often produced in countries with lower environmental and labor standards, leading to long transportation distances and potential exploitation of workers.
Consumer Behavior
Positive Impact: The rise of sustainable and ethical consumer choices has led to increased demand for eco-friendly activewear, encouraging brands to adopt more sustainable practices.
Negative Impact: Fast fashion trends and the culture of regularly updating workout wardrobes contribute to overconsumption and the disposal of clothing, adding to the problem of textile waste.
End-of-Life Impact
Positive Impact: Some brands are developing activewear that is designed for recyclability or offering take-back programs to encourage proper disposal.
Negative Impact: The disposal of activewear, especially items made from non-biodegradable materials, contributes to the growing issue of textile waste in landfills.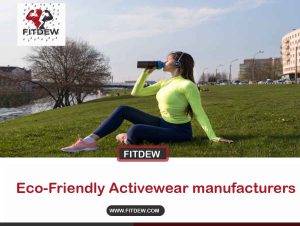 Eco-Friendly Activewear Manufacturers
Let's discuss about Eco-Friendly Activewear Manufacturers and wholesalers
Royal Apparel
Royal Apparel as a USA-based eco-friendly wholesale activewear line realizes how important the maintenance of a healthy lifestyle is and manufactures their products with carbon-based materials designed for the best comfort, and flexibility, as well as contributing to sustainability.
Their wholesale activewear products consist of multiple pieces that include performance tees, baseball tees, tank tops, leggings, joggers, Yoga Pants, and headbands.
If you want to buy high-quality eco-friendly activewear, you can check out their products on their website to make the best choice.
Address: 91 Cabot Court Hauppauge, New York 11788 (Headquarters)
Phone: 866.769.2517
Nature USA
Nature USA are professional in apparel design and manufacturing. The brand was founded with the idea that sustainable fashion should be the norm, not the exception.
Since 1997, they have assisted countless brands and retailers to develop, source, and manufacture their products in a socially responsible and environmentally sustainable manner.
They provide state-of-the-art manufacturing capabilities from domestic and global sources with a wide range of sustainable materials and processing options.
Their products are made of pre- and post-consumer waste, making use of an average of 30% less energy to produce, eco-friendly fibers, less water, less energy, and local manufacturing for a generally smaller environmental footprint.
In their eco-friendly product collection, they have activewear, intimate wear, loungewear, and athleisure categories. You can check out their website for your purchase.
Address: 3097 E Ana St, Compton, CA 90221, United States
Phone: +1 310-667-9030
Tentree
Tentree aims to protect the people and the planet. They make sure of the eco-friendly manufacturing of wholesale clothes. They are on a mission to plant 1 billion trees by 2030.
They believe that taking care of nature, along with fashion, is equally important. They are a certified B Corp company that produces and manufactures sustainable fabrics.
They plant ten trees in exchange for every item bought. They have planted 55 million trees so far. Their products include children's and adults' activewear, loungewear, apparel, and other accessories.
Each of their product is made through eco-friendly methods, materials, and sustainable fabrics like Tencel and organic cotton.
Address: 230 – 1275 Venables St, Vancouver British Columbia, Canada, V6A 2E4
Phone: 1-833-520-1145
Email: support@tentree.com
Activewear Bali
Activewear Bali has been providing premium-grade sustainable Active and Yogawear for more than 20 years and exporting to more than 22 countries.
They manufacture custom-made designs on request and two collections of ready-to-order designs yearly.
Their designs are a mix of their best sellers and their knowledge of what will be trending for the upcoming season.
They are committed to producing Activewear at the lowest possible price with the highest quality in the shortest amount of time possible.
Address: Jl. Raya Semer Br. Semer No.184A, Kerobokan, Kuta Utara, Kabupaten Badung, Bali 80361
Phone: +62-811-3999-520
Email: get.started@activewearbali.com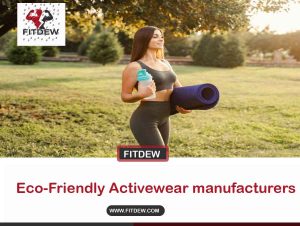 Mcogroup
Mcogroup is a foremost sustainable activewear manufacturer that makes use of Econyl Nylon, Tencel, and recycled Polyester for the production of their products.
Their aim is to provide a positive impact on the environment with their eco-friendly and recyclable products that are comfortable and beautiful as well.
Their major products are activewear, sportswear, cycling wear yoga wear, and more.
Address: Unit 2508a, Bank of America Tower, 12 Harcourt Rd, Central, Hong Kong
Phone: +1[757]5781175, +1(302)-6001895
Email: ps@mcogp.com
NoMiNoU
NoMiNoU is dedicated to the reduction of carbon emissions through sourcing and shipping eco-friendly and organic products from overseas.
To achieve this, they make use of a sublimation technique which reduces the quantity of ink required to print their designs onto the fabric instead of screen-printing their patterns, and this results in less impact on the environment.
Their activewear like leggings, shorts, and sports bras are manufactured from post-consumer recycled water bottles, recycled raw materials, bamboo, and Tencel obtained from trees.
Address: Unit 118 – 5000 Canoe Pass Way Tsawwassen, BC V4M 0B3
Phone: 1 (604) 383 – 0060, 778-701-8112
Email: wholesale@nomidesigns.ca
China Eco Fiber LTD.
China Eco fiber is the foremost supplier of sustainable textiles in China.  They provide premium Eco-friendly textiles, like women's wear, men's wear, outwear and functional wear, sportswear, and accessories.
They are managing supply chains for major brands and retailers worldwide. With an extensive global network of selected factories and suppliers, CEF Ltd can assist buyers in finding cost-effective manufacturers that will offer impeccable quality goods with exceptional pricing and reliable lead times.
China Eco Fiber LTD provides high-performance activewear manufactured by environmentally responsible processes from sustainably sourced natural, raw, and recycled materials.
Address: NO.333 Jianguo North Road, Hangzhou, Zhejiang, China
Tel: +86-571-85087315
Email: contact@chinaecofiber.com
Organic Basics
Organic Basics is dedicated to reducing its carbon footprint and making sure their consumers feel, look and act clean and green by wearing its eco-friendly products which are made of high quality.
They have products like activewear, tees, tops, bodysuits, swimwear, pants, and underwear. They make use of recycled fabric and organic cotton in the manufacture of their products.
Address: Værnedamsvej 12A 1619 DK-Copenhagen V Denmark
Phone: (0045) 78 73 72 70
Email: hello@organicbasics.com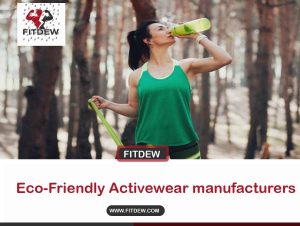 Challenges and Innovations in Eco-Friendly Activewear Manufacturing
Here are some key challenges and potential innovations in this domain
Material Sourcing
Challenge: Finding sustainable and eco-friendly materials for activewear can be challenging. Traditional sportswear often relies on synthetic materials that are derived from petrochemicals.
Innovation: Exploring and adopting alternative materials such as organic cotton, recycled polyester, Tencel, and other plant-based fabrics.
Researchers are also working on developing bio-based materials derived from agricultural waste.
Chemical Usage
Challenge: Conventional dyeing processes and chemical treatments used in activewear manufacturing can be harmful to the environment.
Innovation: Implementing waterless dyeing technologies, making use of natural dyes, and adopting safer and more sustainable chemical processes.
Some companies are also exploring plant-based dyes and dyeing techniques that reduce water consumption.
Waste Management
Challenge: The fashion industry generates a significant amount of waste, including cut-offs and unsold inventory.
Innovation: Adopting zero-waste patterns in design, recycling and upcycling fabric scraps, and implementing circular fashion principles.
Some companies are exploring closed-loop systems where old activewear can be returned, recycled, and used to produce new garments.
Supply Chain Transparency
Challenge: Lack of transparency in the supply chain makes it difficult for consumers to verify the sustainability claims of activewear brands.
Innovation: Implementing blockchain technology and other traceability systems to provide consumers with detailed information about the entire supply chain. This assist in ensuring ethical practices and accountability.
Consumer Awareness
Challenge: Many consumers are not aware of the environmental impact of traditional activewear manufacturing.
Innovation: Increasing awareness through marketing, labeling, and certifications. Brands can also engage in educational campaigns to inform consumers about the importance of choosing eco-friendly activewear.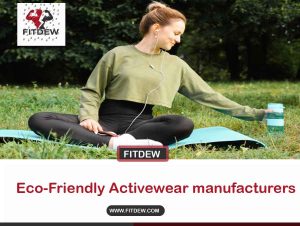 Tips for identifying truly eco-friendly activewear brands
Here are some tips to assist you identify authentic eco-friendly activewear brands
Check Certifications
Look for recognized certifications such as GOTS (Global Organic Textile Standard), OEKO-TEX, Bluesign, or Fair Trade. These certifications ensure that the products meet specific environmental and ethical standards.
Material Selection
Genuine eco-friendly brands often use sustainable materials like organic cotton, recycled polyester, Tencel, or other recycled fibers. Research the materials used in the production of activewear and choose brands that prioritize sustainable sourcing.
Transparency
Trustworthy brands are transparent about their supply chain and manufacturing processes. Look for information on their website regarding where and how their products are made, as well as the environmental impact of their operations.
Sustainable Production Practices
Assess a brand's commitment to sustainability in its production processes. This includes energy efficiency, waste reduction, and water conservation measures. Brands that prioritize these aspects are more likely to be genuinely eco-friendly.
Corporate Social Responsibility (CSR)
Investigate the brand's overall commitment to corporate social responsibility. Brands with a genuine commitment to sustainability often engage in initiatives beyond just eco-friendly materials, such as fair labor practices and community involvement.
End-of-Life Considerations
Look for brands that address the end-of-life cycle of their products. This includes providing information on how to recycle or dispose of the activewear responsibly, or even offering take-back programs.
Reviews and Ratings
Check customer reviews and ratings for insights into the brand's credibility and commitment to sustainability. Social media platforms and independent review websites can be valuable sources of information.
Longevity and Quality
Eco-friendly brands often emphasize durability and quality to encourage consumers to buy less and choose products that last longer. Look for brands that focus on creating durable activewear rather than fast fashion items.
Brand Mission and Values
A genuine commitment to sustainability is often reflected in a brand's mission and values. Look for brands that articulate a clear commitment to environmental and social responsibility.
Collaborations and Partnerships
Brands collaborating with recognized environmental organizations or participating in partnerships that promote sustainability may be more likely to be genuinely eco-friendly.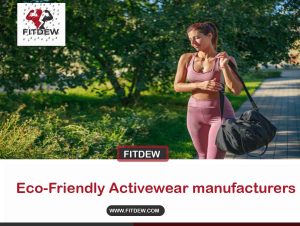 Conclusion on Eco-Friendly Activewear Manufacturers
The emergence of eco-friendly activewear manufacturers marks a positive shift towards sustainable and responsible practices in the fashion industry.
As consumers become increasingly aware of the environmental impact of their choices, the demand for eco-conscious options in activewear has grown significantly.
Manufacturers that prioritize eco-friendly materials, ethical production processes, and responsible business practices are not only contributing to the well-being of the planet but also resonating with a conscious consumer base.
These eco-friendly activewear manufacturers are driving innovation in the industry by exploring and implementing sustainable alternatives to traditional materials, such as recycled fabrics, organic cotton, and plant-based fibers.
Editor's Pick
Does moisture wicking keep you cool when running?
What are jogger pants used for?
What to Pack in a Gym Bag for a Woman
5 Top Fitness Apps for Seniors