Are you a resident of Abuja and you want to know the gyms in your city where you can get started with your fitness journey? If yes, this is the content you have been looking for.
In today's blog post, we will talk about the gyms in Abuja. Read till the last dot to get all the information available about them.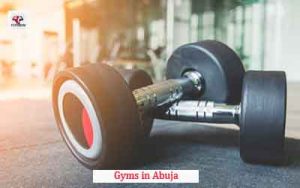 Gyms in Abuja
Here are Gyms in Abuja
Bodyline Wellness Center
About the Gym
At Bodyline Wellness Center, the key to their success is in offering every client a unique personalized service.
In an industry often equated with fads and fashion, their gym has steadily increased its presence by concentrating on the one lifelong benefit valued by everyone which is good health.
Their gym is one of the leading centers in the Sports and Fitness world, that has championed the fitness industry for over a decade.
With their wide range of amenities and highly trained staff, they offer fun and effective workout options to family members of all ages and interests.
Their Classes
Body shape spinning
Cardio workflow aerobics
Power-pro Tae-bo
Power-pro boxing
Power-pro personal training
Cardio workflow burn-out Dancefit
For their membership plans contact them
Address: NO. 16, 1st Avenue, Gwarinpa, Abuja
Phone: +2348034725656
Alpha Trainer Fitness & Spa
About the Gym
At their gym, they understand fitness is not about being better than someone else but about being better than you used to be. You can become a member today by contacting them.
Their Programs
Strength Training
Abs Workout
Circuit Training
HIIT (High-Intensity Interval Training)
Yoga Training
Body Conditioning
For their membership plans contact them
Address: 45 Khartoum St, Zone 5 900285, Abuja, Federal Capital Territory
Phone: 08107739931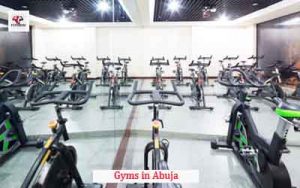 Maxfit Gym
About the Gym
Their vision is to be the leading health and fitness club In Nigeria by offering people access to modern, user-friendly gyms and also through consistently delivering quality service experience.
At their gym, they create a workout environment that promotes the health and well-being of their clients. They also maintain world-class gyms and fitness facilities that offer their clients a dynamic, affordable, and accessible means to exercise and keep fit.
Services they offer
Body Nutrition
Step circuit
Body sculpting
Circuit training
Personal training
Fat busters
For their membership plans click here
Address: H&A Plaza, plot 24 Olusegun Obasanjo Way Wuye District, Abuja
Phone: +234 8094971000
Bodyrox Fitness Studio
About the Gym
At their gym, they want to make health and fitness available to everyone, whatever your lifestyle. They want to ensure fitness is affordable for everyone and with world-class trainers offering the best personal training and fitness classes.
What they offer
Training programs
Fight classes
Strength training
High-intensity interval training
CrossFit
For their membership plans click here
Address: 3rd floor, Silverbird Entertainment Center, Plot 1161, Memorial Drive, By Musa Yar'adua Center, Central Business District, Abuja.
Phone: 0808 955 2382
Conclusion
Having knowledge of the gyms in Abuja as a resident will help you in your decision-making on where to get started with your fitness journey.
Remember it takes consistency to get the results you require. Exercise should not be a one-day off thing. Be committed to your workout routine so you can get the required results.
If you have any health issues, ensure you discuss them with your doctor before getting started with your fitness journey.
Editor's pick
10 Best Gym Exercises for Stress Relief and Relaxation (A must read for everyone)
How to Stay Motivated in Your Gym Routine ( A must read if you want to stay motivated while working out)
10 Exercises for soccer players at the gym (A must read for soccer players who want to be high performers)
4 Best Gyms in Annapolis Maryland