What do you know about Gyms in Henderson Nevada? Read on to get the information you need about them.
From the sleek, modern facilities equipped with cutting-edge exercise equipment to the welcoming and supportive atmosphere, gyms in Henderson provide a compelling testament to the city's commitment to health and well-being.
Whether you are a seasoned athlete looking to push your limits or someone embarking on their fitness journey, Henderson's gyms are the ideal place to sculpt your body, boost your energy, and foster a sense of community as you work towards your health and fitness objectives.
Join us as we explore the fitness centers that make Henderson Nevada a beacon of wellness and vitality for residents and visitors alike.
Overview of Fitness in Henderson Nevada
Fitness in Henderson Nevada is a vibrant and integral part of the community. Located in the southern part of the Las Vegas metropolitan area, Henderson offers a wide range of fitness opportunities for residents and visitors alike.
From well-maintained parks and trails to state-of-the-art fitness centers, there are numerous options to stay active and healthy in this city. Let's check them out.
Parks and Outdoor Recreation
Henderson boasts an extensive network of parks, offering opportunities for outdoor fitness and recreation. Parks like Acacia Park, Cornerstone Park, and the Clark County Heritage Park provide beautiful settings for jogging, cycling, or simply enjoying a leisurely walk.
Also, the city's extensive trail system, including the River Mountain Loop Trail, offers scenic routes for hikers and cyclists to explore the natural beauty of the area.
Fitness Centers and Gyms
For those who prefer indoor fitness, Henderson is home to a wide array of gyms and fitness centers. These facilities offer various classes, personal training, and modern exercise equipment to assist residents in achieving their fitness goals.
Some popular options include 24 Hour Fitness, Anytime Fitness, and local fitness studios offering yoga, CrossFit, and other specialized workouts.
Community Programs
Henderson actively promotes a healthy lifestyle through its community programs and events. The city organizes fitness-related activities and classes, often held in its community centers and parks.
These programs cater to all age groups and fitness levels, making it easy for everyone to get involved and stay active.
Sports and Recreation
The city of Henderson supports a wide range of organized sports, including youth and adult leagues for soccer, baseball, basketball, and more.
There are also facilities for tennis, swimming, and golf. These opportunities for team sports and recreational activities are a great way to engage in physical fitness while connecting with the community.
Healthy Dining
Staying fit goes hand in hand with maintaining a balanced diet, and Henderson offers a variety of restaurants and eateries that cater to health-conscious diners.
You can find options for organic and locally sourced foods, as well as a range of dietary choices to support your nutritional needs.
Health and Wellness Services
Henderson is equipped with a robust healthcare infrastructure, providing residents with access to medical professionals and wellness services.
This ensures that individuals can receive the necessary care and advice to maintain their health and fitness.
Fitness Events
Throughout the year, various fitness-related events and races are held in Henderson attracting participants from both within the city and beyond.
Events like charity runs, triathlons, and fitness expos provide opportunities for individuals to challenge themselves and connect with like-minded fitness enthusiasts.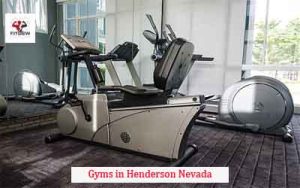 Benefits of Joining a Gym in Henderson Nevada
Joining any of the gyms in Henderson Nevada can offer various benefits for your physical and mental well-being. Here are some advantages of joining a gym in the Henderson area
Improved Physical Health
Regular exercise can assist you to achieve and maintain a healthy weight. It can enhance cardiovascular health by reducing the risk of heart disease, stroke, and high blood pressure.
Strength training and resistance exercises can build muscle and increase bone density. Improved flexibility and balance can reduce the risk of injuries.
Access to Professional Guidance
Many gyms in Henderson Nevada have certified trainers who can create customized workout plans and provide guidance on proper exercise techniques. Personal trainers can help you set and achieve fitness goals.
Variety of Equipment and Classes
Henderson gyms typically offer a wide range of exercise equipment, from cardio machines to free weights.
Group fitness classes are often available, including yoga, spin, Zumba, and more, which can make workouts more engaging and enjoyable.
Motivation and Accountability
The gym environment can provide motivation, as you are surrounded by others working toward their fitness goals. Group classes and training sessions can offer a sense of accountability.
Stress Reduction
Exercise can reduce stress and anxiety, and many gyms in Henderson Nevada offer a peaceful environment for workouts. The release of endorphins during exercise can improve your mood and overall mental well-being.
Community and Social Connections
Joining any of the fitness centers in Henderson Nevada can assist you in connecting with like-minded individuals who share your fitness interests.
Participating in group classes or engaging with others at the gym can lead to new friendships and a supportive community.
Convenience and Accessibility
Henderson has a variety of gyms, so you can likely find one that's conveniently located for you.
Many gyms offer flexible hours to accommodate your schedule.
Goal Tracking
Gyms often provide tools and technology to track your progress, such as fitness apps, monitors, and personal tracking systems.
Enhanced Self-Confidence
Regular exercise can enhance your physical appearance, leading to increased self-confidence and self-esteem.
Health and Wellness Programs
Some gyms in Henderson Nevada may offer additional services like nutrition counseling, wellness programs, and rehabilitation services to address various aspects of health.
Ensure you consider factors like the gym's location, hours of operation, membership fees, and available amenities when choosing a gym in Henderson.
Visiting different gyms and talking to their staff can assist you in finding the one that best aligns with your fitness goals and preferences.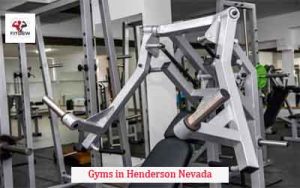 Gyms in Henderson Nevada 
Here are fitness centers in Henderson Nevada
Anytime Fitness Henderson
About the Gym
At Anytime Fitness Henderson, the support begins the moment they meet you. Their coaches create a fitness plan that suits you taking into consideration your abilities, your body, and your fitness goals.
Their friendly and professional staff is trained to assist you along your fitness journey, no matter how much support you need.
Their Gym Amenities
24-Hour Access
24-Hour Security
Convenient Parking
Worldwide Club Access
Private Restrooms
Private Showers
HDTVs
Their Training Services
Small Group Training
Personal Training
Fitness Assessment
EVOLT Body Composition Machine
For their membership plans contact them
Address: 1510 W Horizon Rdg Pkwy Henderson NV 89012
Phone: (702) 202-1371
Planet Fitness Henderson
About the Gym
At Planet Fitness Henderson, they ensure to make available a workout environment where everyone feels accepted and respected.
They make sure their club is clean and welcoming. Their staff is friendly and their certified trainers are ready to offer you the assistance you need to achieve your fitness goals.
Whether you are a first-time gym user or a fitness veteran, you'll always have a home in our Judgement Free Zone.
Their Gym Amenities
Bring a guest anytime
Use of any Planet Fitness worldwide
Use of tanning
Use of massage chairs
Use of hydromassage
Exclusive PF+ app workouts
PF app workouts
Free WIFI and more
For information on their membership plans contact them
Address: 1531 W Sunset Rd Henderson, NV 89014-6636 United States
Phone: (702) 458-3900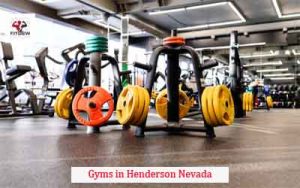 Tony Cress Training Center
About the Gym
At Tony Cress Training Center, they believe that the path to reaching your goals starts with an actionable plan. Talk with one of their expert coaches to learn more about which program style will fit your lifestyle. Results that last are their specialty. They are in the business of assisting their members to achieve their goals for life.
Their Programs
Group training
Nutrition
Youth boxing
Personal training
Online training
Their membership options start at $109 per month
Address: 178 N. Pecos Rd. #100 Henderson NV 89074
Phone: 702 462 2678
PROTOGYM
About the Gym
PROTOGYM is Henderson's premier athletic fitness center. They are a private club with secured access for their members offering a unique workout environment world apart from the standard cookie-cutter gym. Let them assist you in achieving your health and fitness goals and aspirations.
Their Group Fitness Classes
HIIT – High-Intensity Interval Training
Strength and Power
Prehab
For information on their membership plans contact them
Address: 1441 Paseo Verde Pkwy Henderson, NV 89012
Phone: (702) 490-9348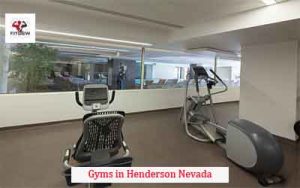 STRIDE Fitness
About the Gym
STRIDE Fitness is a heart-rate-based total body HIIT workout accessible for all. They combine interval training, endurance-based training, and strength training in a unique program format designed for both walkers and runners.
Their Class Formats
The Stride
The Combo
The Core
For more information about their class formats contact them.
Their Membership Plans
4 classes a month for $79.00 (Auto-renews monthly. A 30-day cancellation notice is required).
8 classes a month for $129.00 (Auto-renews monthly. A 30-day cancellation notice is required).
Unlimited classes for $179.00 (Auto-renews monthly. A 30-day cancellation notice is required).
Address: 2970 Saint Rose Parkway, #140 Henderson, NV 89052
Phone: +1 (725) 235-7021
Conclusion on the Gyms in Henderson Nevada
The gyms in Henderson Nevada offer a vibrant and diverse fitness landscape that caters to the needs and aspirations of a health-conscious community.
As we conclude our exploration of these fitness establishments, it becomes evident that they are more than just places to work out; they are centers of wellness and community engagement.
The gyms in Henderson are emblematic of the city's commitment to health and well-being. They provide residents with an array of options to pursue their fitness goals, whether it be weightlifting, cardio, yoga, or group fitness classes.
The sheer variety of fitness centers available ensures that individuals can find the perfect fit for their needs and preferences.
These gyms are not just about exercise; they foster a sense of community. Many fitness enthusiasts in Henderson have discovered lasting friendships and support networks within these establishments.
The camaraderie that develops during group fitness classes or shared workouts is priceless. It is this sense of belonging that often keeps people coming back, turning gym visits into a lifestyle.
Gyms in Henderson prioritize the well-being of their members. They are staffed with qualified trainers and coaches who provide expert guidance and support, helping individuals achieve their fitness goals safely and efficiently.
This commitment to member health extends to the cleanliness and maintenance of the facilities, ensuring a safe and hygienic workout environment.
The gyms in Henderson are also vital contributors to the local economy. They generate employment opportunities, stimulate commerce, and contribute to the overall well-being of the community.
Their presence enhances the quality of life for residents and underscores the city's dedication to a healthier and more active lifestyle.
These fitness centers provide an invaluable service, helping individuals pursue their fitness goals, find a sense of belonging, and live healthier, more fulfilling lives.
Whether you are a seasoned fitness enthusiast or someone just beginning their fitness journey, the gyms in Henderson have something to offer, making them an integral part of this vibrant community.
Frequently Asked Questions on the Gyms in Henderson Nevada
Are there any gyms in Henderson that offer a free trial period?
Many gyms in Henderson offer free trial periods or guest passes for potential members. Contact the specific gym you're interested in to inquire about their trial options.
What types of fitness classes are available at gyms in Henderson?
Gyms in Henderson offer a wide range of fitness classes, including yoga, spinning, Zumba, HIIT, and more. The availability of classes may vary from gym to gym.
Do gyms in Henderson have personal trainers available for hire?
Yes, many gyms in Henderson offer personal training services for an additional fee. You can work with a certified trainer to achieve your fitness goals.
Do gyms in Henderson offer nutritional guidance or dietary advice as part of their services?
Some gyms may have nutritionists or dietitians on staff or offer nutrition-related programs. You can inquire about this when considering a gym.
Editor's Picks
6 Best Gyms in Milwaukee Wisconsin
7 Best Gyms in Minneapolis Minnesota