The content is about the 5 traits of the successful personal fitness trainer. If this is the information you need for you to know how best to go about your preparation for a career in personal training or to know how to differentiate between the kind of trainer you want, read till the last dot to get the full details about a personal trainer.
Before we talk about the traits, we will first discuss a little concerning who a personal trainer is.
Who is a Personal Trainer?
A personal trainer is a person who designs and delivers safe and productive workout plans for healthy individuals and groups, or those who are healthy enough to workout.
They encourage their clients by working with them to set goals, offering them meaningful feedback, and also ensuring their clients carry out the exercises as they ought to, so they can achieve their set goals.
Now that who a personal trainer is have been unveiled, let's get to know the traits of a personal trainer.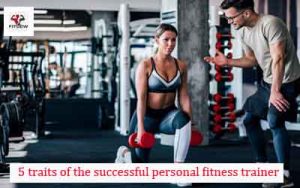 5 traits of the successful personal fitness trainer
When we talk about the traits of a personal trainer, we mean the characteristics or qualities of the trainer.
Here are 5 traits of a successful personal fitness trainer
A personal trainer has teaching ability: The ability to teach is one of the important traits any personal trainer should have. Personal training goes beyond giving instructions to your clients to carry out some workout activities.
If you want your clients to get great results from their workouts, you need to teach them the way they can keep up with their training when you are not engaging in any session of workouts with them.
The procedure to get clients who train with you for more years is through teaching them how they can train without a trainer. Clients who see positive outcomes from their training with you as a trainer continue with the training most times even after reaching their set goals.
A personal trainer must be Passionate: As a personal trainer, is not enough for you to have an interest in fitness activities, you need to be passionate about fitness as this is one of the core qualities you should have as a personal trainer.
For your clients to discover their own love for fitness, you will show them the example through your belief and love of the process.
Your passion for fitness will make it feel less of a work for you because it has become what you love and enjoy doing and you will always put in your best to make it work effectively.
A successful personal trainer must have patience: As a personal trainer you must be patient. As a trainer, you may encounter clients that end and begin with the training, others that strive to stay motivated, as well as the ones that lack the patience to continue when they are unable to get fast positive outcomes.
Your coaching and training sessions will involve people of different ages and potentials, diverse personalities, workout aims, and driving forces.
You may also encounter clients that won't adhere to what you tell them to do in terms of getting the needed workout outcome but they will still be surprised why they don't get the positive outcome.
As a result of the different reasons outlined here, you as a personal trainer might spend so much time trying to figure out what will be suitable for the different clients to attain their different fitness goals and this is where patience will be needed.
A personal trainer must be Knowledgeable: Having an interest in fitness or enjoying your training is not all you need to be a good personal trainer because you need the knowledge of what personal training is all about.
As a good personal trainer, you should understand the way people are different so also is what works for them in fitness different.
Personal trainers have a satisfactory understanding of the rudiments of fitness and make use of it in designing diverse programs for their various clients with their diverse workout goals. Through the completion of the qualifications, you can get the right knowledge of who a good personal trainer is.
A successful personal trainer must have good communication skills:
As a personal trainer having good communication skills is crucial. It is essential that you can communicate well when talking with people in face-to-face situations as well as over the phone, through email, and by text. These skills are crucial for you to interact with your clients.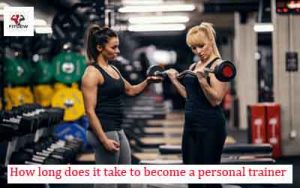 How long does it take to become a personal trainer?
The time it will take you to become a personal trainer is dependent on the route you take. For you to be a personal trainer will require you to acquire the right knowledge needed for the career which can be gotten through education, getting certifications, and other ways you can get knowledge.
Most of the time it takes four years for you to get a bachelor's degree while certification courses on personal training can be gotten within a year. So, the route you will go through depends on what suits you.
With this, let us talk about the qualifications required of a personal trainer.
What qualifications do personal trainers need?
Personal trainers should at least have a bachelor's degree or associate degree in exercise science or related fields of study. They most times have certifications.
What certifications can personal trainers earn?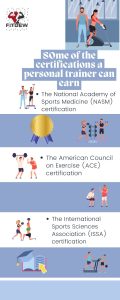 Go through some of the certifications a personal trainer can earn in order for the trainer to be certified to practice as one.
The National Academy of Sports Medicine (NASM) certification
The American Council on Exercise (ACE) certification
The International Sports Sciences Association (ISSA) certification
How long do personal trainer certification courses take?
The duration of the courses differs and depends on the courses and how you work. Most people go through the materials for their examination between a few months or a year the way they feel comfortable.
How do you prepare for personal trainer certification exams?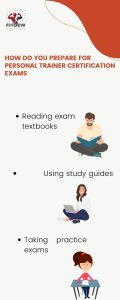 You can prepare for your personal trainer certification examinations by doing the following:
Reading exam textbooks
Using study guides
Taking practice exams
Try spreading out your study over many weeks and separate your study sessions into manageable parts.
How to Become a personal trainer without a degree
You don't necessarily require a college degree to be a successful personal trainer. What you need is mainly personal trainer certification. Though some personal trainer certification courses require you to have a high school diploma or equivalent.
Although you do not require a college degree to be a reputable personal trainer, getting one gives you extra credibility in the industry. A bachelor's degree in exercise science or other related fields will start you off well in your personal trainer career.
There are various nationally recognized and trusted personal trainer certification courses. When selecting any of them, the crucial thing is to ensure it is accredited. The next action is to check if the course suits your budget, schedule, and life needs.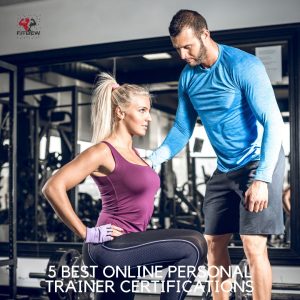 5 Best online personal trainer certifications
Here are the 5 best online personal trainer certifications you will get to kick off your career as a personal trainer.
National Strength and Conditioning Association (NSCA): The duration of the course is not stated, though it is required you pass examinations within a year of your signing up.
NSCA is a non-profit organization which concentrates on enlightening and training experts in diverse careers in sports sciences. It is one of the reputable associations in the fitness industry.
National Academy of Sports Medicine (NASM): The course takes a minimum of 4 weeks.
NASM is popular in the world of sports medicine and fitness and provides a variety of personal training programs online.
American Council of Exercise (ACE): In this course, you study the way it suits you, though it is compulsory for you to write the exam within 6 months of signing up.
They are a non-profit organization committed to exercise and health training through its diverse programs for personal trainers to health coaches.
International Sports Science Association (ISSA): The course takes 4- 12 weeks and up to 6 months to finish up and write the examination.
The Association was created in 1988 and is known globally as a source for fitness trainers and sports scientists. They provide a variety of personal trainer programs, which are dependent on your professional goals.
National Council of Sports and Fitness (NCSF): You take up the course and follow up as it suits you. NCSF is committed to training and enlightening experts focused on exercise and sports. It provides personal trainer certifications and sports nutrition and strength coaching.
For information on the cost of any of these certifications, you can contact the different associations offering them.
How long should I hire a personal trainer?
Your plan should be working with a personal trainer for three to six months of getting started. A good personal trainer will work to assist you to feel comfortable and confident in your form.
It might also exceed six months but it all depends on how consistent you are with your sessions and the goals you are working out for.
A final thought on 5 traits of the successful personal fitness trainer
If you can arm yourself with these traits and other things you need to be a successful personal trainer, you will start out your personal training career on a good note and also do your job effectively the way you will help your clients reach their set goals and with ease.
Remember you can only make people believe in something you already believe in. As a personal trainer, you will need to always be passionate about your job which will make it easier for you to help your clients get the best from fitness.
Editor's pick
7 Swimming Exercises to Lose Weight
The Benefits of Strength Training for Women at the Gym