Are you a resident in search of the best of gyms for boxing in Chicago? If yes this is what you need.
This content is about the best boxing gyms in Chicago. Relax and read till the last dot to get all the necessary information the content has for you.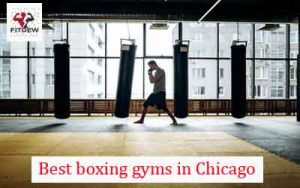 Best boxing gyms in Chicago
Here are Best Boxing gyms in Chicago
Unanimous Boxing Gym
About the Gym
The idea for the establishment of the gym came up Trinidad Garcia and his then client Yuri Polyak were having a conversation over a beer during the Mayweather vs Maidana rematch in 2015.
They both wanted to establish a gym where they could show their love for boxing. The gym was established in June of 2016 to create space for people of all levels and abilities to come enjoy and learn the art of boxing.
Here are their boxing Safety Rules
They don't loan equipment again
Gym members should come to the class with Gloves, Handwraps and Clean Gym Shoes
The gym Classes have been made small to make sure they can give each student attention as well as correction.
Ensure to book your class ahead of time through their app
Late cancellations will be charged a $3 fee and some other gym safety rules.
Their Membership Plans
Unlimited Classes for $150 per month (No Contract Required)
10 pack of Classes Only for $175 (Which must be used within 6 months of first visit).
Single Class for $25
For more information on their membership plans and other related details, contact them.
Address: 1500 W Carroll Ave. Chicago, IL 60607
Phone: (773) 946-3315
Titan Gym
About the Gym
Titan Gym was created in the month of April 2015 with the aim of introducing innovatory procedure to martial arts, fitness, and self-defense.
In their gym they have instructors who are focused on offering you the best tools you need to stay safe as well as protecting your loved ones.
You won't just get skills that will help you stay safe in the gym; you will also reach your fitness goals in the process since you will be involving in workouts that will assist you in doing that.
The reason you should consider registering as a member here is because aside their state-of-the-art facilities, their instructors are Krav Maga Alliance certified and are dedicated to the goal of dependable and realistic training.
Their Programs
Krav Maga
Kids Martial Arts
Adult Martial Arts
Fitness Classes
Corporate Wellness
For information on their membership plans click here
Address: 1415 N Ashland Ave. Chicago, Illinois 60622
Phone: 773-360-8520
The Trenches Boxing and Fitness
About the Gym
The gym began in a small garage on the Northside of Chicago in 2019.  At the Trenches, they are committed to assist you begin from ground zero.
At the Trenches Boxing and Fitness, they provide athletic sports training, personal training, boxing, CrossFit and more services. They understand each person has a unique fitness level and fitness goal so they are committed to making sure you reach your fitness goals.
Services they offer
Group Classes
Boxing Fitness
Strength
Conditioning
Cross Fit Training and more
Unlimited Boxing
Boxing Fitness
Strength
Conditioning
Cross Fit Training and more
Kids Boxing & Fitness
Boxing Skills Training
Boxing Fitness
Self Defense
Discipline
Gain Self Confidence
Personal Training
1 Hour Training
Weight Loss/Gain
Coordination
Nutrition Guidance
Lifestyle Advice and more services
For their membership plans click here
Address: 5711 N Milwaukee Ave Chicago, IL 60646
Phone: 773-822-2496
Mind Body Defense
About the Gym
Their kickboxing classes are for beginners, intermediate, and advanced students.  You are assured of getting personalized attention from their instructor not minding the you are in your fitness journey.
At Mind Body Defense, they value making it possible for you to have a positive diverse environment where you will be challenged to work hard, motivated to learn more, as well as get the push to keep up with your fitness journey.
Their Classes
Kickboxing Classes
Self-Defense Classes
Private Lessons
Workshops
For their membership plans contact them
Address: 4143 N Broadway Chicago, Illinois 60613
Phone: 773-517-4992
UFC Gym
About the Gym
UFC Gym gives you the ultimate MMA-inspired fitness experience. If you wish to unlock your potentials as well as enhance your performance in a highly-energized and supportive environment, UFC gym is the place for you to get in and achieve that.
Their Amenities
Here are the amenities available in UFC gym in Wrigleyville Chicago, IL
Turf
Strength Training Equipment
Personal Training
Mixed Martial Arts Classes
Free Weight Room
Cardio Equipment
Bag Room and more
For their membership plans contact them
Address: 3519 N Clark St Ste 201 Chicago, IL 60657
Phone: (331) 248-6515
Warrior Evolution MMA
About the Gym
At Warrior Evolution MMA, people come for MMA training with the aim of strengthening and conditioning the mind, body, & spirit of your inner warrior to enhance continual evolution of your journey.
Through the philosophy of Bruce Lee's Jeet Kune Do (JKD), they teach mixed martial arts (MMA) that includes techniques from boxing, kickboxing, MuayThai, wrestling, jiu-jitsu, and judo.
Their curriculums include offense and defense which are applicable in competitions and overall self-defense. The whole techniques are taught step by step and shown in the ways it will be effective and efficient.
At their gym, their classes are equipped with the highest level of physical fitness to improve their fighters' training as well as anyone who is looking to lose weight, gain muscle, or maintain healthy joints by emphasizing flexibility, balance, coordination, strength, and power.
Their goal to provide an environment where everyone comes together to reach their goals.
Their Classes
MMA training
Sparring
Strength and conditioning
Kids MMA
Women's self defense
Fitness programs
Address: 329 W 18th St #405 Chicago, IL 60616
Phone: 773-910-1995
Krav Maga Illinois
About the Gym
Krav Maga Illinois was created in 2009. The gym is a female owned business that features authentic Krav Maga Reality Self Defense and awareness training for adults and children of 10 years and above.
They provide exceptional Boxing program that are taught by official USA Boxing Coaches.
Their instructors are committed to providing their services to the community from karate kids to adults.
Their Programs
Krav Maga reality self-defense
Krav Maga for kids
KMI boxing
Address: 5201 N Oketo Ave Chicago IL 60656
Phone: (773) 692-4903
East Kickboxing Club
About the Gym
East Kickboxing Club is the ultimate cardio kickboxing studio for anyone who wants to get in shape as well as have a more active lifestyle.
With the help of their experienced instructor and their approach, you will be able to build lifelong habits that will lead to healthier living.
Their Programs
Cardio attack
Strength building
Mobility release
Targeted toning
For their membership plans contact them
Address: 4351 South Drexel Blvd Chicago, IL 60653
Phone: 773-456-6546
Conclusion
Having the knowledge of the best boxing gyms in Chicago as a resident who is interesting in working on your boxing skills will help you make the best decision when choosing the place to start.
Remember it is not just about getting started, it involves your getting committed to it so you can get your desired results from it.
Editor's pick
How to Stay Motivated in Your Gym Routine ( A must read if you want to stay motivated while working out)
10 Best Gym Exercises for Stress Relief and Relaxation (A must read for everyone)
Gym Etiquette: Dos and Don'ts for a Positive Workout Environment