Unlike the regular gyms, luxury gyms will provide you with all you need to achieve your desired fitness goals while enjoying the comfort of the facility as well.
This content is about the Luxury gyms in Tampa. If you are a resident who have always desired to know about them, read till the last dot to get the information about them.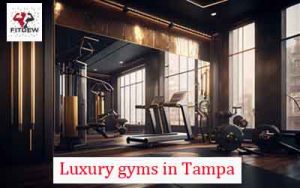 Luxury gyms in Tampa
Here are top luxury gyms in Tampa
Bayshore Fit in Tampa
About the Gym
Bayshore Fit is owned and operated by Beth Scanlan and Jeff Fink. Their mission is to offer great fitness experience to people in Tampa Bay.
The owners put up the best of the features you can see in a gym and this was possible because of their wealth of knowledge in fitness and nutrition. Their aim is to assist their clientele to reach their goal of being healthy while they work out.
No matter your fitness level or age, you can start your fitness journey and reach your goals in their gym because it is open to people of all ages and fitness level. meant for people of all ages and different fitness levels.
Their Offerings
In their gym, their members have access to the following
Full service open gym
Cold plunge
Infrared sauna
Group fitness
Personal training
Recovery room
Outdoor turf area
Indoor turf area
Peloton indoor cycles
Their Membership plans
Fit membership plan for $74 per month (Billed Monthly) with this membership plan you get the Gym Membership and access to fully use the gym during operating hours.
Fitter membership plan for $149 per month (Billed Monthly) with this membership plan you get the Gym Membership as well as access to Unlimited Classes, Unlimited Recovery Room, Unlimited Infrared Sauna, Unlimited Cold Plunge, Peloton Indoor Cycles.
For more information about their membership plan contact them
Address: 4219 W. Gandy Blvd Tampa, FL 33611
Phone: (813) 609-2939
Advance fit
About the Gym
At Advance fit, their facility is designed to make their personal trainers able to get improved results for their clientele. In their gym, everyone gets to support one another.
Because of their friendly atmosphere and how their members are treated, when you join them as a new member you won't want to leave to another gym. They truly care about their members.
The gym is a Premium Semi-Private Gym where the members don't need to wait for a machine. Their gym is always clean and Air-Conditioned, they have top of the line easy to use machines for beginners and the experienced.
If these and many more special things about their gym is what you want in a gym, contact them and become a registered member so you can enjoy it all.
Their Membership plans
24/7 Semi-Private Membership Access for $49 per month
For more information about their membership plans contact them.
Address: 7432 Palm River Road, Tampa, Fl 33619
Phone: 813-430-0030
Planet Fitness Tampa (Florida Ave)
About the Gym
At Planet Fitness Tampa, they ensure their gym is one where everyone can comfortable workout while having the feeling of being accepted. They make sure the gym is clean and their staff is friendly as well as their trainers having the desire to assist the members when necessary.
Their Amenities
As a member you can come along with a guest if you wish to
Access to use any of the planet fitness worldwide
Use of tanning
Use of massage chairs
Use of hydromassage™
Unlimited access to home club
Planet Fitness app workouts
Free fitness training
Free WIFI and more
For their Membership plans contact them
Address: 210 W Waters Ave Tampa, FL 33604 United States
Phone: (813) 444-9955
Anytime Fitness Tampa
About the Gym
At Anytime Fitness Tampa, you begin to get the support you need in your fitness journey once you meet with them. Their coaches will create a fitness plan that suits you which will be created putting into consideration your abilities, your body, and your goals.
The coaches while being professionals in personal training will give you better services than a personal trainer will because just like coaches do, they will work with you, listen to you, and continue thinking about your progress even when you are done with the workout.
Their Gym Amenities
24-Hour Access to the gym
24-Hour Security
Convenient Parking
Access to their clubs worldwide
Private Restrooms
Private Showers
Tanning
Their gym Training Services
Small Group Training
Personal Training
Fitness Assessment
Their Membership plans
Their memberships start at $29 per month
For more information about their membership plans contact them
Address: 2905 W Kennedy Blvd Tampa FL 33609
Phone: (813) 392-2728
Parallax Fitness
About the Gym
At Parallax Fitness, they offer specialized high energy group fitness classes. They are continuously making changes to their workout routines in order to keep improving your body.
With their exclusive mix of plyometrics, weights, and cardiovascular training techniques alongside an environment of energy, enthusiasm, and fun, you get the best kind of workout different from the ones you have encountered.
Their gym has all the equipment you will be needing for your workouts. The policies in their gym are suitable for members. Children can work out free with their parents who are members. This is the gym for you if these are part of the things you will enjoy about a gym.
Their Membership plans
Group Membership plan (All their agreements are month to month, and the membership you get gives you access to unlimited classes also for the month).
$20 for non-member single session
$75 for Students, Teachers, Military, First Responders
$85 for their Regular Monthly Members
One time initiation fee of $15 for all their new members
Personal Training plan (Personal training sessions are available for the addition fees listed here)
$60 per session for members
$70 per session for non-members
Gym Use Only
$20 per month with no contracts
One time initiation fee of $15 for all new members
Kids can work out for free with their member parent until they are 16 years of age.
Address: 5204 W. Linebaugh Ave. Tampa, FL 33624
Phone: 813-334-8014
Snap Fitness Tampa
About the Gym
At Snap Fitness Tampa, you will have access to their facility as well as get the needed support from their staff when you need it.
As a member you will get access to the best range of cardio, strength, and functional training equipment as well as a member app which will assist you in the setting of your fitness goals and celebration of your progress when you reach your goals.
Their Gym Amenities
Snap App
Group Classes
Nutrition Consultants
Private Bathrooms
Strength Training
Private Showers
Personal Training
Free Weights
Cardio Equipment
24 Hour Access and more
Their Membership Plans
All of their membership plans give you key card access to their gym as well as exclusive access to their Snap App.
$37.95 per month (Month-To-Month) Flexible rolling monthly contract
For more information on their membership plans contact them
Address: 12611 Race Track Rd, Tampa FL 33626
Phone: (813) 814-1984
Conclusion
Having the knowledge of the different luxury gyms in Tampa as a resident will assist you in decision making when you want to choose a gym where you can get luxury services in your area.
If getting the best luxury fitness services that will help you reach your fitness goals is what you want, then try and check out any of these luxury gyms in Tampa today and possibly get registered with one where you can start out on your fitness journey.
Editor's pick
How to Stay Motivated in Your Gym Routine ( A must read if you want to stay motivated while working out)
Gym Safety: Preventing Injuries and Ensuring a Safe Workout
Gym Etiquette: Dos and Don'ts for a Positive Workout Environment