Aside from achieving your fitness goals in a gym, you can become friends with people that you meet in the gym. That is to say, the gym can benefit you aside from reaching your fitness goals.
When it comes to working out in the gym, getting access to the best gym equipment and access to fitness experts helps you hit your fitness goals by getting the best fitness advice and support you need.
In today's blog post, we will talk about the gyms in Durham UK. If you are a resident who is interested in getting started with your fitness goals and having access to all your needs to achieve them, read the post to the last dot to get the information need to make your decision.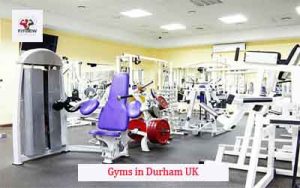 Gyms in Durham UK
Here are Gyms in Durham UK
UltraFlex
About the Gym
At UltraFlex, they know how frustrating it can be to have to wait when you are ready to train, so they have a huge volume of weights and cardio equipment to make sure that there are multiple racks and machines for every body part so that when it is busy, it doesn't have to delay your session.
Whether you are an experienced strength athlete, or just starting and want to lose weight or get in shape, they have everything you need to get the most out of your workouts and match your effort with results.
Their gym is open to all, with a friendly and positive environment to make you feel welcome and part of the family.
Their Gym Facilities
Free weights
Legs area
Cardio area
Lifting platforms
Changing rooms showers
Sunbed and more
For their membership plans contact them
Address: Mandale Business Park, Unit 28D, Kent House, Durham DH1 1TH
Phone: +441913898321
Healthlands Ladies Only Fitness Club
About the Gym
At Healthlands, they know what is vitally important to their members, and they know that your health and fitness are the priority.
Whether you have worked out before or are just ready to take the first steps to a healthier lifestyle, it doesn't matter. They get to know you and find out the goal you want to achieve and with this, their team of fitness coaches will easily get to where you want to be.
Their Classes
Aerobic and Stamina
Body Conditioning and Strength
Core and Stability
For their membership plans contact them
Address: Finchale Road, Framwellgate Moor, Durham, DH1 5HE
Phone: 0191 384 4334
PureGym Durham Arnison
About the Gym
At PureGym, they have great-value membership options which all include 24/7 access with no contract. They also have a modern functional zone (sled track included), a free weights area with dumbbells up to 50kg, and much more.
They want to keep PureGym a safe environment for everyone to work out. If you plan to train at night or during un-staffed hours, you can read their unstaffed hours document on their website to ensure your safety when at the gym.
Their Gym Amenities
Free parking
Free WIFI
Full air-con and more
Their Classes
Bootcamp
Yoga
Strength 45
Box fit
Legs, bums and tums
Cycle and more
For their membership plans contact them
Address: Unit 2, Mercia Retail Park, Abbey Road, Durham DH1 5GE
Phone: +44 3444770005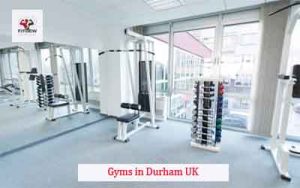 CrossFit DHM
About the Gym
At CrossFit DHM everything revolves around their community made up of people from all walks of life. The fitness center was established in 2012 by Dave and Joyce Ranson and has grown in size and strength over the years.
In 2020 the box was taken on by a small group of existing members, all of whom have careers in the real world but share a passion for fitness.
At CrossFit DHM, they believe CrossFit is for all, regardless of race, age, gender, disability, religion, or sexual orientation; regardless of ability or fitness level. They would like everyone to feel included and welcome whether they are a member, prospective member, or visitor.
Their Classes
CrossFit
DHM Morning Class
Calisthenics and more
For their membership plans click here
Address: Unit 6 Dragonville Industrial Estate Renny's Lane Durham DH1 2RS
Project Fitness GB
About the Gym
At Project Fitness GB, they believe that fitness is the key to improved lifestyle and mental health. Whether your fitness goal is weight loss, muscle building, strength building, toning up, or any other goal, no matter what your fitness level is, they work alongside you on your goals so you can be the best version of yourself.
Their Head Coach, Sean Hibbert is an Ex-Military PTI (Physical Training Instructor) and has always displayed a passion for health and fitness. He has also been awarded Male UK Personal Trainer of the Year 2022.
In February 2020, Project Fitness GB opened its doors in Houghton Le Spring to create an inclusive community-based gym that looks beyond just physical ability but the person as a whole.
Since 2020 Project Fitness GB has grown into an award-winning facility, winning The Sunderland Echo 2022 Business Excellence award in "Leisure and Hospitality". Along with being named the Sunderland Echo Best Gym in 2022. It now calls Great Lumley its home.
They offer a range of services including; personal training, group-based exercise classes, nutritional advice, and open gym sessions. All of their weighted equipment is brand new and state of the art and they have a custom rig. Free parking and also secured with 24-hour CCTV, which is a major bonus. They also have an onsite sports massage therapist.
Their Services
Functional fitness
Engine room
Lift and Compete
Project Bootcamp
Their Membership Plans
Project Fitness GB Membership for £55 per month. No contract, No sign-up fee (2 months cancellation).
PAYG for £8 per session
Address: Medway, Great Lumley, Chester Le Street, DH34HU
Phone: 07956076615
Peak Body Gym
About the Gym
Peak Body Gym is a family-run friendly facility based in Chester Le Street – Durham. Their Facilities are vast offering everything you need for any workout. Their staff are always on hand to assist and offer you the support you need to achieve your fitness goals.
Their Gym Amenities
Free weight – Plate loaded and pin-select machines
Large cardio room
Sunbeds
Showers
Workout studio and more
Their Membership Plans
Day Pass (single day pass) for £7
Weekly (one-week membership) for £12
Monthly for £30
Joint Membership for £55 Monthly
Address: 182 Front Street Chester – le – Street Co. Durham DH33AZ
Phone: 0191 3885703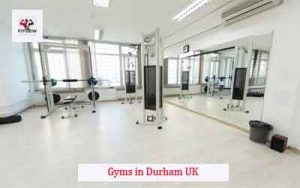 Tempest Dance and Fitness
About the Gym
Tempest Dance and Fitness is Durham City Centre's only dedicated dance studio for pole dance, aerial hoop, aerial yoga, aerial silks, trapeze, strength and conditioning, adult dance classes, fitness, kids' aerial, Burlesque, and more.
At Tempest Dance and Fitness, they have sessions to suit all levels of experience from absolute beginner through to advanced.
Their instructors are here to assist you no matter what you want to achieve. They are qualified in several disciplines and are here to support your journey.  They will assist you in gaining confidence, building strength, dancing, making friends, and having fun.
Their Services
Pole Fitness/Pole Dancing
Aerial Hoop
Aerial Silks
Static Trapeze
Aerial Yoga
Kids Classes
For their membership plans contact them
Address: Units 4 and 5, Maynard's Row, Durham DH1 1QF, United Kingdom
Phone: 07507632458
Conclusion
Ensure you check for other requirements like the gym time and their location. Going for a location convenient for you and gym time that suits your schedule will help you enjoy your workout sessions.
Editor's Pick
12 Best Gyms in Birmingham UK where you will get the best workout Experience