If you have always wanted to know what it takes for you to be a fitness instructor, this content is for you.
The content will provide you with all the information you need on How to become a fitness Instructor. You will be glad you did read this because after reading through it all you will have all the required details you need to start out your journey as a fitness instructor.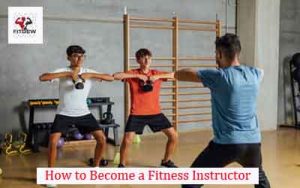 How to Become a Fitness Instructor
Here are tips on how to become a fitness instructor
Carry out your research: To start with, you need to do is to make inquiries to find out about the types of fitness instructors and go for the one you think suits you more as well as inquire to know the kind of place you will be comfortable working as a fitness instructor.
Your clear understanding of the kind of fitness career you want will help you put a plan in place on how you can go about it.
Consider acquiring a degree: Fitness instructors commonly have at the minimum a high school diploma; some employers may be looking for applicants with an associate or bachelor's degree in relevant courses like exercise science and others.
Develop your people skills: Developing skills with which you can help people is important. You will need to know how to motivate your clients and explain how they can carry out different exercises as well as the benefits they can get from participating in the exercises.
As a fitness instructor, you will also be someone who listens very well to people so you can be able to understand your clients better on the problems they are encountering and their fitness plans as well as their capability.
You will also need to understand your clients ought to be treated rightly. You should be kind to them as well as respect them and in turn, they will be devoted clients.
As a fitness instructor, you should know every client has a specific need which will require a different approach to sorting it out. This will mean you will be able to solve problems by attending to each of them with the best solution for their need.
Get your CPR and AED certification: A lot of certifications that are professional in the field of fitness will require you to have updated cardiopulmonary resuscitation (CPR) and automated external defibrillator (AED) certifications.
They are essential requirements because the skills can help you in times of emergency to offer first aid treatment.
Select a specialization: Check through specialized classes that are available at a fitness center and go for one of them as your specialty. When you get to specialize, you will know where you can work or the clients you can work with.
For instance, cardio fitness instructors can lead cycling, running, step aerobics, or dance classes and so it is for other specialized fitness instructors to take charge of classes in their specialty.
Become a certified fitness instructor: Becoming certified will authenticate you before employers and possible clients. So, getting a certification will boost how people view you as a fitness instructor.
Several organizations provide general fitness instructor certifications. Certifying agencies recognized in the industry are the American Council on Exercise (ACE), the Athletics and Fitness Association of America (AFAA), and the National Academy of Sports Medicine (NASM).  You can also get certified in specialized aspects of fitness.
Start part-time: While you continue with your education programs or work in a different career field, you can start this on a part-time basis and then commit fully when you must have gotten all you need to fully continue it on a full-time basis.
Get social: Ensure to have social media presence which will help you spread the news about the services you offer as well as show them you are good at what you do.
You can start out on any of the social media platforms like Facebook and Instagram or even any other one you wish to add. While you post about your services on social media, you reach more people that you may likely work with.
Put into consideration liability insurance: Before you start your fitness class lessons or fitness lesson with individuals, ensure you make findings to know if you will require liability insurance or not. When you are not convinced whether you need it or not, it is better you inquire from experts in legal matters.
Continue to learn: The fitness sector will keep advancing as far as there is continuous learning about the human body. So, continue to learn and this will make you offer services having current information in exercise.
Qualifications to be a fitness instructor
Here are the qualifications you need to become a fitness instructor
Level 2 Certificate in Fitness Instructing: This starter qualification is the first step you get through to be a fitness instructor and this helps you to work in a private gym and health club as a fitness instructor.
To get this certification, you can combine studying at home, tutorials online as well as practical workshops from a college or online learning resource.
You can plan fitness programs that will be effective and safe using the skills and knowledge acquired from this certificate.
The minimum age for you to qualify to take this certification is 16 years and the certification enlightens aspiring fitness instructors on anatomy and physiology and this makes you qualified to design and provide instructions on exercise.
With this qualification, you can request membership in the Register of Exercise Professionals (REPs), the national governing body, that gives you a license to work in the fitness industry.
Personal Training Level 3 Certificate: This one is the next step to being a certified fitness instructor.
You can take the course on a part-time basis and complete the certification in 10 weeks at college, or learn online or through another provider of the training. Before you can go for this level 3 certification you must have passed the level 2 certificate.
In this level 3 certificate, you develop your skills and you get to learn the constituents of physiology and anatomy of exercising and health.
You as well learn about nutrition principles, health, welfare, safety, and how you can put up a personal training program. From the course, you also get to learn how you can give gym users the support they need to work out having their safety in mind.
Sports Coaching and Development Level 3 Diploma: This course is equivalent to an A-level and is a more comprehensive two-year BTEC course. The diploma gets you set for a profession in the field of sports and fitness as well as develops your coaching and sports development skills.
It teaches you about physiology, anatomy, sports psychology, and nutrition as well as how to prepare for peak performance.
You also get information from the course on how you can start your fitness business. Five GCSEs in grade 4, including English and maths are usually the entry requirements to take the course.
You can decide to go to a university or other higher education course after completing this diploma.
Conclusion
If you can follow up with all that was mentioned in the content, you can become a certified fitness instructor.
Remember you are to get started with research to know which of the fitness instructor you will like to be in order for you to plan well for your career as a fitness instructor.
Editor's pick
How to Stay Motivated in Your Gym Routine ( A must read if you want to stay motivated while working out)
10 Best Gym Exercises for Stress Relief and Relaxation (A must read for everyone)
10 Top Values of a personal trainer ( A must read for aspiring Personal trainers)
Personal trainer advantages and disadvantages (A must read before you hire a personal trainer)