A personal trainer is a person who designs and provides exercise strategies that are suitable for healthy individuals or people that have clearance medically to work out.
This content is about Personal trainer advantages and disadvantages. Read till the end to get all the information you need about the benefits of having a personal trainer and the demerits of not having one.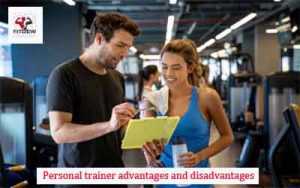 Personal trainer advantages and disadvantages
We will start with the Advantages of having a personal trainer.
Advantages of having a personal trainer
A personal trainer increases your accountability: working out especially when you are just starting out can be tiring and you may find it difficult to carry out all the exercises you ought to and the number of times you are to do it.
The case is different when you have a personal trainer. Your personal trainer will check out to ensure you carry it all out, you will be left with no other choice than to keep to all of the exercises and also be serious with the workout sessions.
You will learn about health, fitness, and your body from a personal trainer: you will learn about health, fitness, and body from a personal trainer.
As a result of the kind of training a personal trainer acquires, the trainer has a good knowledge of how the body functions, exercises, and more.
So, they teach you how to use different equipment as well as tell you the best workouts for the results you need. A personal trainer will also teach you things you need to know about healthy living.
A personal trainer helps with goal setting: A personal trainer can assist you set goals that you can reach while putting into consideration your personal experiences and abilities which brings you the required results.
When you work with a personal trainer you get an individualized plan: Having a personal trainer will give you access to an individualized plan which is specifically for you. When you have individualized plans, it makes it possible for you to get the results you want because the plan was designed for you.
Flexible schedule and format: You can meet with a personal trainer in person at a gym weekly or as much as you think is better for the month. With virtual personal training sessions, you can even workout in your home while you be on a video conference with the trainer who will guide you on how to go about your workout session.
Promotes exercise variety: A personal trainer can introduce you to new exercises you have not tried out before which will make your workout time fun.
The more you carry out the different exercises he introduces you to, the more you are encouraged to reach your fitness goals (this will make you not get bored while working out because you are trying different exercises out).
A personal trainer will give you nutritional advice: While a personal trainer will not recommend meal plans since that is for a nutritionist or a dietician to do, the personal trainer can offer you nutritional advice that will help you in your fitness journey.
Having the right knowledge of the right food to eat and the proportion it is needed while you are working out will help you get your desired results.
Helps your mental health: Personal trainers can assist you in different aspects of your mental health.
Exercise enhances blood circulation to the brain which helps in the reduction of stress and improves mood and cognitive function generally. Working with a trainer consistently will help you reap these benefits.
Additionally, a good personal trainer will be interested in your family, your career, and your struggles and can become someone you can discuss issues bothering with.
Having it in mind that there is someone who will encourage you not just in the gym but outside too makes you feel good.
Promotes a healthy lifestyle change: When you work with a personal trainer, it helps you have a healthy lifestyle. A trainer can assist you make these changes one by one and encourages you through any of the barriers that may arise.
Disadvantages of having a Personal trainer
Just like there are benefits to having a personal trainer, there are demerits to having a personal trainer.
Let's check them out.
Cost: One of the problems that can be encountered in hiring a personal trainer is the problem of cost. For you to have a personal trainer it can cost you so much. But if you truly need the best in your fitness journey, then working with a personal trainer is worth it.
Not Every Personal Trainer is a Professional: Hiring a personal trainer, there is no guarantee that the one you hired is a professional.
Even in the gym is possible their certification for trainers is not equal to the standard ones. Choosing a trainer is either you are lucky or someone refers you to a professional trainer.
Personality Clashes: Most personal trainers are forceful as a result of their job and this can be a problem if you can't withstand the command of others or you are unable to work under pressure. Getting another trainer you can cope with may take a longer time.
Location and Time Management Issues:  When you decide to hire a personal trainer, the location and time are necessary to be considered because the time you might be free for a workout may be the time your trainer has an appointment with another person.
Some rural locations might have a limited number of trainers which means you might have to travel to get someone you feel will be suitable.
Benefits of a personal trainer for weight loss
Here are the ways a personal trainer can help you in your weight loss journey
Personal Trainers Make Challenging Workouts Feel Much Easier: When you work with a personal trainer in your weight loss journey, challenging exercises become much easier because of how they guide you through it all and the support they give to you while you carry it out.
The best kind of workout for fat loss is high-intensity strength training circuits because they enhance your metabolism, build muscle, and help you in burning pounds of fat.
With the help of a personal trainer, you will be motivated to keep up with the exercise because he won't let you be in your comfort zone, but will assure you of getting the required results if you give it the best.
Personal Trainers offer Friendly, Patient, and Effective Motivation to Exercise: When you work with a personal trainer, he offers you the required motivation you need to get the needed result.
A personal trainer who is friendly will be patient with you while you engage in your workout sessions.
Instead of making you feel bad and discouraged to continue, the trainer will motivate you and make you believe it is possible for you to reach your goal of weight loss, and with this mindset, you will get it done because you will then be committed to going all in.
Diet & Nutrition Advice: If you are taking unhealthy food or meals that won't support your workout goals, you won't get the required results you need.
Eating healthily does not mean you will stop eating your favorite meals but is more about you having the knowledge of how your body stores energy, and how it burns fat and calories.
When this happens, you will know what you are supposed to eat and the quantity you need to take in to get the required result from your workouts.
A personal trainer can teach you a lot about these things and can work with you to put together a customized, well-balanced diet plan which will assist to speed up your weight loss.
Strength & Core Training Expertise: A personal trainer can enlighten you on how to carry out strength and core training the right way as well as customize your workout plans to have the right balance of activities to get you the best results.
Placing too much emphasis on cardio routines and neglecting Strength/resistance training (like weight lifting) or core training like Squats and lunges can result in loss of muscle mass and reduced metabolism which is not good because the more muscle mass you have, the more calories you are able to burn, even when you are not working out.  But with a personal trainer, you do it the right way.
Faith: A good personal trainer has faith in the ability to help you get results. Remember this is not about making fake promises of what you will get, but it is about telling you things they know will happen because they are good with what they do. The best personal trainers are truly concerned about the progress of their clients.
To make sure you get a good personal trainer when you need one, ensure to thoroughly check references and testimonials from their past clients.
Conclusion
There are many benefits you get from hiring a personal trainer and also some problems you might encounter.
But remember that it is worth it to have a personal trainer. Aside from the fact that a personal trainer will encourage and motivate you, the trainer's knowledge of exercises will help you see your workout as fun unlike when you are starting out on your own.
Don't allow the disadvantages to discourage you from getting one because working with a professional trainer will get you the required result.
Editor's pick
How to Stay Motivated in Your Gym Routine ( A must read if you want to stay motivated while working out)
12 Gym Exercises for Core Strength and Stability
Maximizing Your Gym Time: Efficient Workout Strategies
5 traits of the successful personal fitness trainer