This content is about the values of a personal trainer. Read till the end to get all the information you need about it.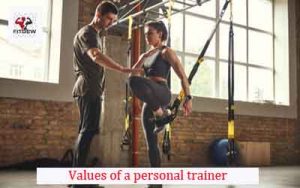 Values of a personal trainer
Here are the values every personal trainer should have
Honesty: A personal trainer's ability to build open and sincere working relationships with your clients is important for your long-term results.
No matter the things your clients want, as a personal trainer you will understand the ability of your clients and then help them set goals that can be achieved.
You will sincerely tell your clients what is best for them and make them comfortable with telling you about their difficulties and progress.
Motivating: As a personal trainer you need to have it in mind that no two clients are the same so you must motivate different people in different ways having in mind their diverse needs.
The time you spend communicating with your clients individually will always be valued by them and will make them committed to achieving their fitness plan.
Open Communication: Freely interacting with your clients is important as a personal trainer because they all have different reasons why they want to enhance their fitness and you can know about this when you communicate with them. If you communicate freely with them, you will get feedback after you have given them instructions on what they are to do.
Great communication is a feature that will help boost your business success and network as this can assist you in growing your reputation as well as bring more business your way.
Supportive: The ability to support clients in their fitness journey is one of the qualities every personal trainer should have as this will enable them to understand the way their clients feel about the workouts they do.
Even when a particular exercise is too stressful for a client, you will try to get a substitute workout that will give the results required.
Customer Focused: As a personal trainer you should be concerned about providing the best services to your customers. Remember to focus on a client throughout their training session.
When you focus on your customers, you will give them the best services they need from a personal trainer and in turn makes it easy for them to possibly bring more people who will have you as their trainer because you offered the services that helped them reach their fitness goals.
As a fitness professional try to strike a balance between service and client expectations. Even if the service your client needs is not part of what you offer, you can refer them to someone you know that offers the services and this will make their relationship with you a good one.
Loyal: When you show client loyalty, it assists you in the building of goal-oriented relationships.
It is about you doing things you said you will do and not going below the expectations. Always deliver services that are valuable or that will bring the required results.
Friendly: As a personal trainer, you should be friendly with your clients and be someone they can easily have access to as well as enjoy their sessions. Let them be free around you and try to motivate them in a friendly manner. Let them see you as someone who truly cares about them.
Empathetic: As a personal trainer, you need to show your clients empathy. Make them know you understand their feeling.  Empathy assists you in recognizing diverse client circumstances as well as offering them tailored support, understanding, and insight.
Knowledge: As a personal trainer you should have both the technical and industry knowledge needed for you to do well in the field.
Be ready to share the technical knowledge you acquired during your Personal Trainer course, alongside your wider understanding of the industry. This will make you offer the very best services to your clients.
Ethical: The real test is when you have to use your judgment to make decisions that may be unpopular with your client.
If your client's request is something you know is not ethical but can make you more money, as a professional you should work within what is ethical. Make them understand why you won't have to approve of what they requested.
An example of this is an enthusiastic client who wants four plus sessions per week.  Yes, the client wants to get fast results but in your professional capacity you know they are not ready and this might result in overtraining and injury.
On your own, you could really use the income, and four sessions a week will mean you earning serious money. Work within your professional capabilities, the industry code of conduct, and your client's fitness levels always.
Try to get solutions without being unethical and also assists your client move forwards. In this example now, you can set a medium-term goal to work up to four sessions a week, based on hitting certain fitness targets.
Conclusion
As a personal trainer if offering your clients the best services is what you want, then you must have these values. Is not just about training them, but also ensuring the training brings the client the required results.
Editor's pick
How to Stay Motivated in Your Gym Routine ( A must read if you want to stay motivated while working out)
10 dangerous exercises to avoid in your workouts (A must read for everyone)
How to Become a personal trainer without a Degree
Free Personal Training Courses for the Unemployed
Personal trainer advantages and disadvantages (A must read before you hire a personal trainer)