In the search for the best ladies' gym in Riyadh, it is essential to consider the various options available and make an informed decision.
Regular physical activity not only helps in maintaining a healthy weight but also plays a crucial role in preventing chronic diseases, improving cardiovascular health, boosting mental well-being, and enhancing the overall quality of life.
Recognizing these benefits, women in Riyadh are actively seeking out fitness facilities that cater specifically to their needs, creating a demand for women's gyms in the city. This article will review the best ladies gyms in Riyadh.
Women's Gyms In Riyadh
Riyadh is the capital city of Saudi Arabia and has witnessed a remarkable surge in the establishment of women's gyms.
This growth can be attributed to several factors, including the increasing emphasis on women's empowerment, a shift towards a healthier lifestyle, and a desire for a safe and comfortable environment for women to exercise.
Women in Riyadh are now more motivated than ever to join fitness centers that cater exclusively to their needs, providing a supportive and inclusive atmosphere to pursue their fitness goals.
Key Considerations For Selecting The Best Ladies' Gym
Here are some factors to consider when choosing a ladies' gym to attend.
Related: 15 Best Gyms in Texas
Location and accessibility
When choosing a ladies' gym in Riyadh, location and accessibility are important factors to consider. Women are more likely to stay consistent with their fitness routine if the gym is conveniently located near their home or workplace.
Also, factors such as parking facilities, public transportation options, and operating hours should be taken into account to ensure easy access and convenience.
Facilities and equipment
The quality and range of facilities and equipment available at a ladies' gym are crucial considerations. An ideal gym should offer a well-equipped space with modern fitness machines, free weights, cardio equipment, and functional training areas.
Facilities such as locker rooms, showers, changing areas, and relaxation zones are also important for a comfortable workout experience.
Variety of classes and programs
A diverse range of classes and programs is a significant factor to consider when selecting a ladies' gym. Look for gyms that offer a wide variety of fitness classes such as yoga, Zumba, Pilates, high-intensity interval training (HIIT), spinning, and strength training.
The availability of specialized programs like prenatal fitness, postnatal recovery, and senior fitness can cater to specific needs and preferences.
Qualified trainers and staff
The expertise and qualifications of the trainers and staff members at a ladies' gym are vital for a safe and effective workout experience. Look for gyms that employ certified trainers with relevant experience in their respective fields.
Trainers should be knowledgeable, supportive, and capable of providing personalized guidance to help women achieve their fitness goals.
Cleanliness and hygiene measures
Maintaining a clean and hygienic environment is crucial for any gym, especially for women's gyms. Pay attention to cleanliness standards, including regular equipment maintenance, proper ventilation, and sanitation protocols.
Adequate access to clean towels, sanitizing stations, and hygiene facilities such as restrooms and showers is essential for a comfortable and hygienic workout environment.
Membership options and pricing
Consider the membership options and pricing structures offered by different ladies' gyms in Riyadh. Review the affordability and value for money concerning the facilities, services, and programs provided.
Also read: 10 Best boxing gyms in Texas 
Look for flexible membership plans that align with your fitness goals and availability. It's also worth considering any additional benefits such as personal training sessions, nutritional guidance, or access to exclusive events or workshops.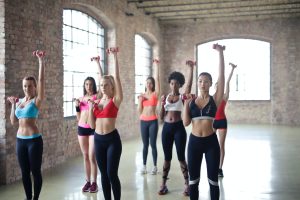 Best Ladies Gym In Riyadh
Here are the best ladies' gyms in Riyadh
Al Manahil
This is located at the Diplomatic Quarters, Al Manahil Ladies Center is airy and bright. It spreads over two levels with views looking over an outdoor tennis court.
The ground floor supports the cardiovascular equipment whilst upstairs you'll find the circuit and weight training area. Its vigorous class schedule offers everything from the latest Les Mills classes, including Bodypump and Body Attack, to others like TRX, spinning, dance, pilates, mat and yoga.
In addition to the popular Martial Art (Taekwondo) and Tennis classes, members have access to the steam room and can sign up for water exercises and swimming lessons in the heated indoor swimming pool.
It is also in the process of adding the latest equipment to the gym, and expanding in space, and is working on becoming the largest Pilates Studio in Riyadh.
When you are done with your workout, you can have a healthy drink from the juice bar or take advantage of the rest of the center by stopping at the spa, salon, boutique or restaurant.
Address: Diplomatic Square، Ibn Zahr Street, Al Safarat, Riyadh 12512, Saudi Arabia
Phone: +966 9200 06245
Nuyu
The modern and hip Loft-like gym located in Northern Riyadh (AlYasamien district) is a pure fitness center with a great mix of studio and gym space. Studio 1 on the ground floor is where all the group workouts take place from Bodycombat and circuits to Zumba, Boot Camp and Cross Fit classes.
The Holistic Studio is a serene space designed to integrate body, mind and spirit through yoga and pilates. As for spinning, NuYu's invigorating theatrical studio, together with lively music will transport you into another zone.
This gym provides state-of-the-art machines, AMT striders and an amazing "functional zone" which has all the latest fitness accessories and gives you space to work out individually or under the supervision of qualified personal trainers.
Last but not least, the Power Plate sessions give you a warm-up, resistance work, cardio, and a massage all in 30 minutes.
NuYu's facilities include a retail store featuring Pure Lime fitness apparel. Additionally, it offers a range of membership options that are likely to suit your budget and needs.
Address: QMGP+VW, 2093 Northern Ring Br Rd, At Taawun, Riyadh 54714, Saudi Arabia
Phone: +966 9200 07576
Luthan
Luthan Gym is found inside Luthan Hotel and Spa, which is an exclusive ladies' hotel located in AlRaed District. Its elegant wellness center is the best place to rejuvenate, revitalize and unwind. Luthan Fitness and Yoga studios are calm and zen. They reflect a cozy yet energetic atmosphere.
Besides yoga and pilates classes, which strengthen the core and balance both body and mind, it also offers classes that are fun, lively and that help burn calories and improve overall wellness (i.e. Zumba, dancing, spinning and AquaFit).
Luthan Fitness has 3, 6 and 12-month elite memberships which offer many benefits including discounts on spa treatments, salon services, restaurants, complimentary health and fitness assessments and unlimited use of fitness equipment within the Gyms For Women and spa facilities.
Its classy facilities include a state-of-the-art gym, a meditation room, an indoor heated swimming pool, a relaxing jacuzzi, a sauna and a steam room.
Address: Building No.7358 Al Hanka, Riyadh 12352, Saudi Arabia
Phone: +966 11 480 7799
Kore
KORE is a fitness boutique located in the AlKhozama district that brings a new spin to traditional Gyms For Women by providing an innovative approach to fitness. Two studios in the facility hold a variety of classes such as yoga, pilates, spinning, Zumba and belly dancing.
Members can choose the Focused or Mix & Match packages for group classes or the personal training package for private one-on-one classes.
The Circuit training program involves the Milon machines, a smart technology system of strength and endurance training in only 17.5 minutes, resulting in a focused, guided and well-recorded workout.
It also has the unique Water Bike, which is an individual aqua-physiotherapeutic cycling system with 16 hydro massage jets to help reduce cellulite.
Address: AlKhozama district St, Riyadh 14242, Saudi Arabia
Phone: +966 11 482 0003
Curves
This world-renowned fitness and weight loss center promises to give you a complete workout in just 30 minutes. The Curves system is simple. It is circuit training using hydraulic resistance machines set up in a circle, which is adjusted to the strength level of each woman.
This special design helps effectively train and strengthen muscles while it reduces soreness and the potential for injury. Once you join, your weight and measurements are taken to create your record, which is updated with your monthly assessments so you can track your progress.
Annual memberships give you many benefits, like access to customized fitness and weight management programs and plans, and exclusive Curves retail and nutritional products.
Joining one of Curve's fitness centers automatically entitles you to use your membership in any of the 10,000 Curve outlets across the globe. So wherever you may be, you can work out.
Address: 7624 Abdullah Ibn Zamah, 2207, Al Olaya, Riyadh 12244, Saudi Arabia
Phone: +966 1 4633219
Al Multaka
Located in the AlMalaz district, AlMultaka is a multi-purpose ladies' center aiming to connect women with art, design, fashion, beauty and fitness all in a contemporary and charming environment.
AlMultaka Fitness Center promotes wellness and vitality through dynamic programs and attractive services. Its brightly lit Gyms For Women, with floor-to-ceiling windows and cardio theatre, radiates a sense of freshness and energy.
The Studio classes offer a variety of group fitness programs including certified Spinning, TRX, body combat and the popular Fight-do, as well as numerous cross-training activities like mega dance, swimming and aqua aerobics classes. For the union of body, breath and mind, there are yoga, pilates and Fit ball classes.
AlMultaka is a STOTT Pilates Certified fitness center so you are ensured a safe and effective workout every time. The Stott Pilates courses are given in a specialized studio using reformers and the latest 3-in-1 machines.
Members can also continue to the rest of the center and enjoy the spacious and airy FontainBleu restaurant, serene spa or beauty salon.
Address: Al Salwa, Ar Rabwah, Riyadh 12815, Saudi Arabia
Phone: +966 11 478 3388
Conclusion on the ladies gyms in Riyadh
In the search for the best ladies' gym in Riyadh, it's crucial to consider factors like location, facilities, classes, trainers, cleanliness, and pricing.
With a range of options available, women can now make an informed decisions tailored to their preferences and fitness goals.
By selecting the best ladies' gym in Riyadh, you can embark on a rewarding fitness journey, prioritizing your health, and enjoying a supportive and empowering environment.
Editors Pick