Do you know how to be a fitness model? Read till the last dot to get all the details you need about how to build your fitness modeling career.
A fitness model is a professional paid to promote products and services related to fitness such as athletic clothing, nutritional supplements, and gym memberships.
A fitness model is a professional who models athletic equipment, clothing, products, and services for photo shoots, videos, and live events.
Characteristics of a fitness model
A fitness model should have the following attributes
Physically fit:
Fitness models should be able to run, jump and lift with relative ease. Fitness models will also need physical endurance to be able to work for several hours without showing fatigue.
Communication skills:
An important skill for anyone in the modeling industry is the ability to Be able to navigate professional conversations naturally.
Models must be able to successfully promote themselves to potential clients.  Strong communication skills are a must because Fitness models need to be able to follow instructions, talk to scouts and agents, and introduce themselves to potential clients.
Confidence:
Modeling of any sort requires a significant amount of self-confidence. Fitness models must be comfortable enough with their bodies to be able to pose in front of an audience.
Confidence can increase a model's chance of being hired and improve their job performance.
They must also exude confidence when meeting with clients, interacting with scouts, or discussing how to become a fitness model and shoot with a photographer.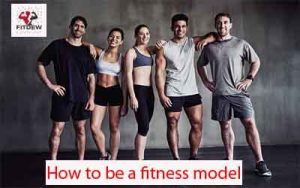 How to be a fitness model
To become a fitness model requires a little work and effort, you'll have to start somewhere and that would be to :
1. Perfect your physique
Whether lithe and lean or brawny and bulging, discernable, defined muscles are required for any fitness or athletic model.
Generally, you'll need to lift heavy; eat a clean, calorie-laden, protein-filled diet; and take care of your body with good sleep and self-care practices.
2. Get modeling experience
You cannot get what you don't prepare for. As it is said, prepare for when opportunity meets readiness.
So, practice your poses, angles, and looks by asking a friend to take pictures of you or seeing if a local fitness studio needs someone to model for them.
3. Create a modeling portfolio
Your portfolio should include a professional headshot, body shot, black-and-white shot, creative shot, location shot, and closing shot.
Be sure to include fitness model-specific photos of you flexing, squatting, and just generally strutting your athletic stuff.
Your portfolio should also have your personal stats (age, hair and eye color, and body measurements), professional summary, and contact info.
4. Build your social media presence
The world has gone digital, so go with the flow. Fitness modeling is particularly social-forward, so be sure to create an online presence that identifies you as a fitness model.
Post photos of yourself exercising, teaching fitness classes, and flexing your muscles, that goes without a fuse. Use hashtags that put you on the spectrum of your target audiences such as #fitnessmodel, #fitness, #fitnessmotivation, #bodybuilding, #gymlife, #model, and #fitspo, etc.
5. Get involved in the fitness community
Build social capital with the movers and shakers in the fitness modeling realm through:
Swimsuit and fitness competitions: Attend, compete, and network at these events. Even if you don't take home the prize, the experience matters a lot and helps with visibility in the fitness modeling community.
Local fitness studios: Sign up to take or teach classes at your local gyms and fitness studios. Talk to other fitness professionals to learn about opportunities for growth in the field. Basically, get connected with the circle.
6. Find representation
To find a modeling agent, try attending open calls and model searches. You can also reach out to modeling agencies with your digital modeling portfolio to see if anyone bites.
7. Land jobs
Working with an agent is the best way to land jobs, but you can also find jobs through:
Freelance model sites: sites such as Model Management and Model Mayhem to get in touch with potential clients.
Casting calls: the comprehensive modeling auditions and casting calls database includes opportunities for fitness models.
The work environment of a fitness model
Fitness models may be required to work both indoors and outdoors. Indoor shoots take place in a studio and may feature props, set pieces, and artificial lighting.
Outdoor photoshoots typically take place away from the studio, so you may be required to travel to shoot at a certain location. Models will usually shoot for long hours and make multiple outfit changes.
The brand or studio that is organizing the shoot will typically provide food and refreshments for the models and crew. Depending on the nature of the shoot, a model may be required to pose for the same photographer several days in a row.
According to Ziprecruiter, As of Jan 30, 2023, the average annual pay for a Fitness Model in the United States is $49,671 a year.
Conclusion
Fitness modeling is not the easiest job role to take or do but it is by far a rewarding career.
Becoming a fitness model is an increasingly competitive profession. However, not a lot of people know about fitness modeling or what it takes to become one.
We hope this article equips you with knowledge on how and what to do to become a fitness model.
Editor's pick
5 Reasons why exercise is important
Best 7 exercises to do everyday
Essential gym equipment for home