Looking for a little extra guidance or inspiration to help you meet your fitness goals? Then a gym is the surest place to be.
Here are a few gyms in Alaska everyone ought to know;
1. Alaska Functional Fitness
At Alaska Functional Fitness, they offer the most advanced equipment and technology anywhere in the state.
They have designed the most elevated fitness experience – crafted for what you need, but beyond what you expect.
In addition to access to state-of-the-art equipment, all Alaska Functional Fitness members enjoy the support of their friendly, knowledgeable staff anytime you need it.
Members also have access to free body composition testing on their InBody 570, and free access to their health and wellness seminars.
It's their goal to provide a clean, safe, welcoming environment for anyone who walks through their door, and all the equipment, amenities and support you need once you're there
Contact: (888) 505-3957
Address: 6320 MacKay St., Anchorage, AK 99518
2. Planet Fitness
No matter what you're looking for in a gym, they have got a membership option made for you. All Planet Fitness members enjoy unlimited access to their home club and the support of our friendly, knowledgeable staff anytime you need it.
PF Black Card® members receive additional benefits, including the ability to bring a guest for free and access to any of our 2,400+ PF locations.
As a PF member, you can take advantage of their free fitness training or find your motivation by reading real member experiences on Planet of Triumphs.
It's their goal to provide a clean, safe, welcoming environment for anyone who walks through their door, and all the equipment, amenities and support you need once you're there.
Contact: +19078687600
Address: 3101 Penland Pkwy, Anchorage, AK 99508, United States
3. Anytime Fitness
At Anytime Fitness Anchorage, the support is real and it starts the moment you step in. Their coaches don't have one plan that fits everyone, they develop a plan that fits you – a total fitness experience designed around your abilities, your body, and your goals.
Your plan will contain a 360 approach to your health and will cover important areas other gyms simply can't.
Their coaches are experts in personal training, but they're different from the personal trainers you may be used to.
A trainer tells you what to do. A coach works with you, listens, and doesn't stop thinking about your progress when the workout is finished. Your needs are unique and a one-size fits all approach isn't going to cut it.
Contact: (907) 339-2348
Address: 8936 Lake Otis Pkwy Anchorage AK 99507
Related: 9 Best Gyms in Alabama
4. Orangetheory Fitness
Orangetheory is a science-backed, technology-tracked, coach-inspired group workout designed to produce results from the inside out.
The hardest part of their workouts is showing up – they make it simple for you to push yourself, be your personal best and give you more. Because you shouldn't live to exercise. You should exercise to live.
Orangetheory is a total-body group workout that combines science, coaching and technology to guarantee maximum results from the inside out.
Their workout is not HIIT. It is heart rate-based interval training, where you train through 5 heart rate zones designed to charge your metabolism for MORE caloric afterburn, MORE results, and MORE confidence, all to deliver you MORE LIFE.
Orangetheory is more than a gym because the work you do there in their studio will make all the difference out there in your world.
Contact: +19075190077
Address: 345 W 104th Ave, Anchorage, AK 99515, United States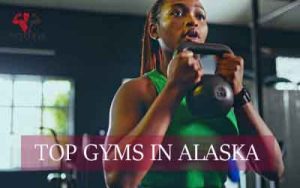 5. CrossFit Alaska
CrossFit Alaska (CFAK) was founded in 2008. It was one of the first 300 CrossFit gyms to open up around the world. A lot of hard work and sweat from many individuals have built it up to what it is today.
At CFAK they provide a strength and conditioning program that consists of combinations of weightlifting, cardio and gymnastics. Workouts of the Day (WODs) are all conducted by a dedicated and trained CrossFit coach in 1 hour classes.
Their fitness programming aims to improve your capacity in the ten general physical skills: cardio-respiratory endurance, stamina, strength, flexibility, power, speed, coordination, agility, balance and accuracy.
The result is comprehensive physical fitness. They strive to foster a friendly and fun atmosphere that welcomes athletes from all walks of life.
Their experienced coaching staff will motivate and support you as you transform yourself physically, mentally and take your fitness to the next level. The mental and physical strength you build will transfer over to your life, you will become a more confident version of yourself.
Contact: 1-907-277-2348
Address: 9191 Old Seward Hwy, Anchorage, AK 99515, United States
6. Sundog Community Fitness
Joining a gym shouldn't be intimidating. Sundog Community Fitness will help you feel comfortable getting started. It remains of the top gyms in Alaska.
Their trainers are passionate and knowledgeable, helping you know what to do, keeping you on track. They celebrate with you every time you reach the next level! They are striving to help every person find a higher quality of life through greater health.
After spending time in their facility and with their team they want their members to walk out of their doors after a workout and feel like they are a better version of themselves.
It isn't the scientific sum of calories, workouts, and weight that keeps their members returning. It is not cutting-edge equipment and technology.
It is the people that count. Their team cares about guiding and encouraging each and every member to obtain the goals they seek for themselves. Their members' goals are specific and if they can assist in that journey to realizing their aspirations then they have truly helped them change their life.
Contact: +1 907-415-1683
Address: 3501 Lathrop St D, Fairbanks, AK 99701, United States
7. F&H Fitness Studio
F&H Fitness Studio is a boutique-style studio offering personal training and signature indoor cycling classes. CULTURE Ride® is what sets them apart from any gym you've ever been to.
They push some of the most elite athletes while offering modifications for those just beginning their fitness journey. Their mission is to help all people be fit & healthy for life. You can work out with them in Fairbanks, Alaska.
Contact: 907-371-0999
Address: 1235 Airport Way Fairbanks, AK 99701
8. Denali Fitness
Denali Fitness has demonstrated the same concern and integrity towards the health and fitness of adults, as it has for the children of their community Since 1995.
Denali Fitness has always offered unique programming and their emphasis on functional movement and fitness has expanded their program options.
Conclusion on gyms in Alaska
Stay healthy and fit by visiting a gym . A gym also provides accountability and helps you stay consistent with your fitness goals.
Since your opinion counts on our platform, feel free to air your views in the comment below.
Editor's picks