Personal trainers are professionals that work closely with individuals to help them meet their fitness and health goals.
They help people achieve their health and fitness goals through safe, efficient workout programs and routines.
Certified personal trainers are fitness professionals who have the training, experience, and knowledge required to help clients meet their physical fitness goals.
They create and lead individual and group exercises that are tailor-made for their clients' health needs.
Skills required of a personal trainer
As a personal trainer, you will need to be knowledgeable about fitness science and the human body, as well as possess the personal skills needed to motivate your clients to achieve their health goals.
For you to be a personal trainer, you have to possess the following skills.
Excellent customer service skills
Ability to teach people how to do what you know how to do.
Ability to work on your own, and have self-initiative.
physical skills like movement, coordination, dexterity, and grace
knowledge of psychology like theories of motivation
knowledge of teaching and the ability to design fitness programs
physical fitness and endurance
patience and the ability to remain calm in stressful situations
Ability to carry out basic tasks on a computer or hand-held device
Record keeping
Basic nutrition
Operating and maintaining exercise equipment
Physiology and exercise physiology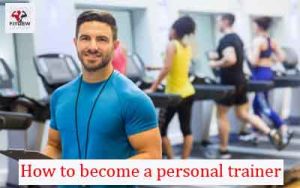 How to become a personal trainer
Here are the steps to take to become a personal trainer
1. Earn a High School Diploma
2. Complete AED/CPR Certification
Personal trainers must complete cardiopulmonary resuscitation (CPR) and automated external defibrillator (AED) certification programs. These programs teach trainers first aid and emergency treatments.
3. Choose a Specialty
Prospective trainers should choose a specialty that matches their skill sets, personal interests, and professional goals.
4. Choose a certification
The first step is choosing a certification program. Consider a certification accredited by the National Commission for Certifying Agencies (NCCA), renowned as the gold standard in health and fitness.
5. Take and pass certification examination
Once you feel you are prepared, excited, and ready to become a personal trainer, it's time to register for your exam. This includes an application and your fee.
6. Apply for Jobs and Build a Portfolio
Now you are qualified for positions in different fitness settings, it's up to you to decide the best fit.  You can get experience by working at your local gym and possibly following and observing closely an experienced trainer.
7. Additional education options
The system is a continuous one, new things are introduced frequently, and you will need to continue learning and growing to stay competitive.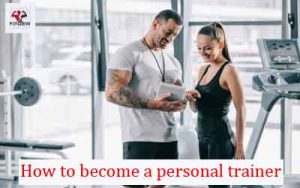 How much do personal trainers make?
The money Personal trainers make differs based on location, skill level, years of experience, and other factors but According to ZipRecruiter, the average monthly payment for a Personal Trainer in the United States is $4,298 a month.
Personal trainer salary California
According to salary.com, The average Personal Trainer salary in California is $73,144, but the range typically falls between $52,772 and $89,854.  According to Ziprecruiter the average annual pay for a Personal Trainer in California is $51,196 a year.
Salary ranges might vary significantly based on the city and a number of other crucial aspects, such as schooling, credentials, and the amount of time spent in the field.
Conclusion
Personal Trainers are professionals with experience, so combining their knowledge of physical fitness, health, and nutrition with an ability to work well with others, personal trainers are integral to helping their clients improve their health.
If you enjoy physical activity and working face-to-face with others, then you might consider a career as a certified personal trainer.
Editor's pick
How to get bigger hips naturally and fast through exercise
Exercise to reduce belly fat for females at home
Best 7 exercises to do everyday
5 Reasons why exercise is important