Gym is a short form for gymnasium, it is a  room or building where people go to play sports or exercise.
There are many reasons why you may need a gym, like privacy, comfort, and accountability. Stay fit while staying safe.
Here is a list few gyms in Alabama you ought to know about;
1. Anytime Fitness
At Anytime Fitness Foley, the support is real and it starts the moment they meet you. Their coaches don't have one plan that fits everyone, they develop a plan that fits you – a total fitness experience designed around your abilities, your body, and your goals.
Your plan will contain a 360 approach to your health and will cover important areas other gyms simply can't.
At Foley, their coaches are experts in personal training, but they're different than the personal trainers you may be used to.
A trainer tells you what to do. A coach works with you, listens, and doesn't stop thinking about your progress when the workout is finished. Your needs are unique and a one-size fits all approach isn't going to cut it.
That's why their coaches don't create a plan for you until after you get to know each other. That makes sense, right? And don't be surprised if you ever get a text from them when you least expect it. They like to check-in.
Contact: (251) 923-5550
Address: 8154 Hwy 59 Ste 216 Foley AL 36535
2. Iron Tribe Fitness – Downtown
At Iron Tribe, they are committed to helping busy men and women all across their community get the most out of every workout and have a great time in the process.
Ranked one of the top 5 best workouts in the nation, Iron Tribe's 45-minute group classes are fun and paired with one-on-one personal coaching to help make you the healthiest version of yourself.
They also offer hands-on semi-private training to help clients of all experience levels reach their goals with a completely customized and personal approach. They are proud to surround you with professional coaches and a dedicated support system that will have your back every single day.
Contact: (205) 226-8669
Address: 300 27th Street South, Birmingham, Alabama 35233
3. Orangetheory Fitness
Orangetheory is a total-body group workout that combines science, coaching, and technology to guarantee maximum results from the inside out.
Their workout is not HIIT. It is heart rate-based interval training, where you train through 5 heart rate zones designed to charge your metabolism for MORE caloric afterburn, MORE results, and MORE confidence, all to deliver you MORE LIFE.
Contact: +1 205-991-9700
Address: 210 Inverness Cors, Birmingham, AL 35242, United States
4. CLUB4 Fitness Prattville
CLUB4 Fitness is a membership-oriented health facility offering a wide array of classes and equipment that allow its members to achieve their health and fitness goals.
At every CLUB4 Fitness location, you'll enjoy the best workout classes with outstanding service and an unbeatable atmosphere.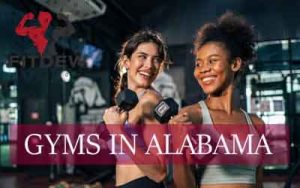 With beautifully designed facilities and a diverse selection of machines and equipment, CLUB4 Fitness offers a truly unique experience.
Their goal is to improve the physical, medical, spiritual, and emotional health of their community — and that's why they are passionate about making CLUB4Fitness a Club for Everybody and Every BODY.
Contact: +1 334-310-1044
Address: 1880 E Main St, Prattville, AL 36066, United States
5. 24e Health Clubs
24e Health Clubs are locally owned and operated health clubs with locations throughout Alabama.  Focused on delivering great member service and top-notch facilities, 24e Health Clubs are quickly being recognized as a leading fitness provider in and around the areas it serves.
At 24e Health Clubs, they offer various fitness programs, workout sessions, and membership benefits. Whether you're looking for classes focused on strength and conditioning, cardio, or general nutrition, they have options for you. Additionally, if you prefer group fitness training or more individualized training, they offer both.
Worried about your kids while you work out? No worries. 24e Health Clubs has a Kidzone where your little ones can hang out, have fun, or work on homework. 24e was Founded in 2010 in Hoover, AL, and was opened by Wayne Alford.
Contact: +1 205-824-4243
Address: 1550 B, Montgomery Hwy, Hoover, AL 35216, United States
6. Fit Life
Fit Life is a premier fitness, training, and tanning club with a strong commitment to personalized service and individual attention for those seeking to achieve a healthier lifestyle. There at Fit Life, they keep in stock what you need to achieve your goals.
From Preworkout to Protein, Supplements & Tanning lotions, they have got you covered.  Fit Life offers unlimited 24/7 tanning with the purchase of a membership.
Fit Life offers a full line of Cybex selectorized strength training equipment to work for any muscle group on your body.
Contact: +1 205-926-4957
Address: 10462 AL-5 suite c, Brent, AL 35034, United States
7. Riviera Fitness Center
Riviera Fitness has been serving the Birmingham area for more than 30 years. Over the years we have helped thousands of people improve their overall health and wellness.
Our facilities have welcomed and championed people of all different backgrounds and fitness levels. We want to help everyone overcome their obstacles to become their best selves.
Riviera Fitness has been serving the Birmingham area for more than 25 years. With 3 great locations in Centerpoint, Midfield, and Homewood it has something for everyone.
Contact: (205) 853-8878
Address: 2300 B Centerpoint Parkway Birmingham, AL 35215
8. Forge Fitness Powered by CrossFit Shades
Forge Fitness is not just a gym – it's a family of people who want to look and feel better and enjoy the support of others who want the same.
We offer dynamic, functional exercise powered by the CrossFit methodology to help you build strength, endurance, and power – all while losing weight, pushing yourself beyond your limits, and growing as a person.
No matter who you are, or what you think you are capable of, you have a place waiting for you in the Forge family.
Give us 30 days and be in the best shape of your life. Come see us for the transformation and life-changing experience you need and deserve.
Forge Fitness members enjoy the benefits of a clean and modern exercise facility equipped with men's and women's locker rooms as well as a kid's area.
You won't find a wall-to-wall assortment of shiny equipment and complicated machines. Our tools are simple; our space is clean
Contact: +1 205-569-1874
address: 2301 Old Columbiana Rd, Birmingham, AL 35216, United States
9. Auburn Montgomery Wellness Center
Wellness Center at AUM is proud to offer you state-of-the-art facilities, indoor and outdoor action, and a place to relax, enjoy, and maintain a wellness center lifestyle.
Your total fitness and wellness is the aim of the AUM Wellness Center. Members can: Swim, Conquer the rock climbing wall, Play basketball, badminton, or pickleball, Enjoy a group fitness class, Weight training, Run on the track, Hike on the walking trail, Soak in the hot tub, Play disc golf, Get sandy playing outdoor volleyball.
AUM Wellness Center has a wide range of facilities for those with memberships. Every member of the Warhawk Nation can find plenty of fun, fitness-oriented pursuits here!
Contact: +1 334-244-3484
Address: 7420 Aum Dr, Montgomery, AL 36117, United States
Conclusion on the Gyms in Alabama
Stay fit and healthy always while forming bonds and accountability circles. We hope this list helps you find a gym around you.
Feel free to air your view on what you think about this list of top gyms in Alabama.
Recommendations