Do you know gyms in Georgia? Read on to know them.
Keeping fit is one important aspect of living healthy and you can carry this out successfully by registering with a gym where you can be given the right instructions that will give you the results you want.
Georgia is a state in the Southeastern region of the United States, bordered to the north by Tennessee and North Carolina; to the northeast by South Carolina; to the southeast by the Atlantic Ocean; to the south by Florida; and to the west by Alabama. Georgia is the 24th-largest state in the area and the 8th most populous of the 50 United States. Its 2020 population was 10,711,908, according to the U.S. Census Bureau.
Gyms in Georgia
Here are gyms in Georgia
Clarity Fitness
At Clarity Fitness, they are a scale-free, diet-free, BMI-free, beating-yourself-up-free establishment online and in person, and Georgia's FIRST body-positive Class Studio.
They aspire to help their clients find their version of joyful movement – workouts that don't feel like a burden because you are doing what feels good for your body at that exact moment.
They are the only gym in Georgia that is trained specifically to work alongside eating disorder treatment teams.
Their Amenities
Smashed scale wall
Non-scale victory wall
Tinted mirrors
Private workout spaces and more
Their services
Classes
Personal training
Location: One West Court Square, Suite 100 Decatur, GA 30030
Phone: (216) 245-3965
Email: info@clarityfitness.com
Resolution Fitness
Resolution Fitness is downtown Atlanta's premier fitness and wellness facility. Whether you are a tenant of 191, a downtown professional, a nearby resident, or visiting Atlanta for work, they have something for everybody.
Their services
Personal Training
Group Fitness
Nutrition
Tenant Wellness and more
Membership
They offer month-to-month memberships for tenants, non-tenants, interns/college students, and more. Memberships include a one-time enrollment fee at the time of sign-up and only a 30-day cancellation policy – no annual fees.
Guest One-Day Passes: $20/day or $80/week
Deloitte Guest Rate: $10/day
​Location: 191 Peachtree ST NE, Suite 300, Atlanta, GA 30303
Phone: 470-346-2580
Elite Edge
Elite Edge is the premier fitness and sports performance gym located in Chamblee Georgia.
They specialize in getting you to your goals by offering group fitness, personal training, sports performance, resistance training, and muscle activation techniques.
Their services
High Energy Workouts
Upper Body Strength Training
Lower Body Strength Training
HIIT Cardio Class and more
Location: 3550 Broad St Chamblee GA 30341
Phone: 770-695-0663
The Rack
The Rack is housed in a spacious 7,600 sq. ft. training facility which allows ample room for group coaching, specialty courses, and one-on-one training.
They have all the necessary equipment and apparatus you need to train competitively.
Their offerings
3 Power Racks
4 Double Sided Squat Racks
6 (8×8) Platforms
A Deadlift Platform with Band Attachments
Competitive Squat/Bench Combo Rack
Location: 1824 Briarwood Industrial Ct NE STE 2, Atlanta, GA 30329
Phone: (678)-626-7225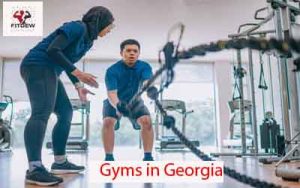 Powerlady Fitness
At Powerlady Fitness, it's all about community. Join a welcoming, comfortable, empowering environment where women support each other through involvement and education to ensure that everyone reaches their goals.
Women of all shapes, sizes, shades, ages, and fitness levels are invited to join the supportive, nourishing community and access the wide range of effective programs, activities, and services.
The community-focused fitness club is located in a private, discreet studio in the Toco Hills shopping center in Northeast Atlanta for the access and support of all women. Everyone faces challenges; at Powerlady Fitness, you don't have to face your challenges alone.
In addition to a selection of cardio and weight machines, Powerlady Fitness also offers popular group fitness programs.
Members have access to the finest group of dedicated fitness instructors in the industry with a variety of specialties. All trainers are highly experienced experts who are dedicated to supporting women as they work toward their goals.
Their services
Personal training
Small group training
Gym memberships
$85/MONTH for (month to month)
3 months (paid in full) for $225
1 year (pay monthly) for $65/MONTH
1 year (paid in full) for $780
Class Card
1 CLASS — $15
5 CLASSES — $70
10 CLASSES — $120
Location: 2947-C North Druid Hills Rd Atlanta, GA 30329
Phone: 404.320.0050
CrossFit gym
They are Atlanta's oldest and most established CrossFit gym. Their system is 12+ years in the making and is designed and proven to get results for any person regardless of skill level or fitness background.
You don't need to get in shape before you come in. Their Crossfit Launch program is the perfect environment for those new to CrossFit or looking to get back in the swing of things.
Their facility
Main gym
Lobby
Locker rooms
Office
Their programs
Classes
Personal Training
Body Fat Testing
Corporate Wellness
Location: 1730 TAYLOR STREET NW ATLANTA, GA 30318
Phone: (470) 645-1055
Email: info@crossfitatlanta.com
YouFit Douglasville
At YouFit Douglasville, you will find exactly what you need to get your heart pumping, tone your muscles, build strength, lose weight, and increase your flexibility.
They offer small group training classes led by a personal trainer, Olympic weightlifting platforms and bumper plates, endless cardio machines, and on-demand classes. Plus, affordable personal training starting at $35.
Their Amenities
Small Group Training
Free Weights & Machines
Cardio Machines and more
Location: 9559 Georgia Hwy 5, Suite 401 Douglasville, GA, 30135
Phone: (678) 460-0495
Gold's Gym
Gold's Gym Evans membership gives you access to everything you need to transform your life like state-of-the-art amenities, a variety of classes tailored to your fitness needs, and the world's best personal trainers.
Whatever you need, you will find it here with help from experts who will be with you every step of the way and a community of members who will inspire and support you.
Their Amenities
Cardio Equipment Cardio Equipment
Group Exercise Group Exercise
Personal Training Personal Training and more
Fitness programs
Personal training
Group exercise
Cardio and strength areas
Location:  4408 Evans to Locks Rd Evans, GA 30809
Phone: 706-391-4111
Email: klynchgetgolds@gmail.com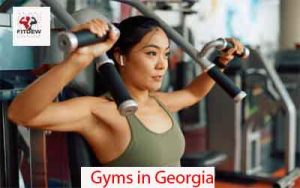 Viking Fitness
Viking Fitness is one of the few remaining family-owned & operated gyms in GA.
They offer a 6,000 sq ft, fully equipped facility featuring commercial-grade cardio machines, strength training, circuit machines, free weights and adjustable benches, fitness classes, trainers, tanning, and 24-hour member access so you can work out on your terms.
Viking fitness offers competitive rates and flexible plans to meet your individual needs whether you are looking to lose fat, build lean muscle, increase your flexibility, improve your mobility, de-stress, or train for a specific goal or event. Viking Fitness has everything you need right here at home.
Location: 4033 East Main Street Soperton, GA 30457 USA
Phone: (912) 529-6181
FitCo
They offer small town with southern hospitality feel in every market they are in. We make sure to address people by their names and make them feel like more than just a number.
At FitCo you will be treated as family and be a part of the greater community of fitness and life.
Their offerings
Group fitness
Small group training
Personal training
Tanning/sauna and more
Location: 4226 HARTLEY BRIDGE RD MACON, GA 31216
Phone: (478) 973-2735
Destiny fitness
Be a part of their awesome community and transform your body for only $24.95 per month.
With many locations across central Georgia, they are the #1 choice for health and fitness.
Results start when you do. At Destiny Fitness, they have everything you need to stay in shape.
Their services
Personal training
Group training
Group weights
Cardio
Yoga
Tanning
Bootcamp and more
Gym plans
Standard membership for $24.95 /month
With group fitness or tanning for $44.95 /month
Customer's choice Add tanning and group fitness for $64.95
Family membership for $64.95 /month
Location: 162 Ocilla HWY, Fitzgerald, GA 31750
Phone: (229) 423-7814
24Seven Family Fitness
24Seven Family Fitness is all about affordability and convenience for the perfect workout.
They offer multiple locations close to home or work for affordable prices that include free 24-hour/7 day a week/365 day a year access to fitness and level 1-4 (UV) tanning beds.
Their clubs all vary to give members a new and different experience at each one. Each location has top-name equipment with cardio, circuit, and free weights, plus stand-up and lay-down (UV) tanning beds.
Location: 10010 Abercorn ST Ste 5A Savannah, GA 31406
Phone: (912) 920-7734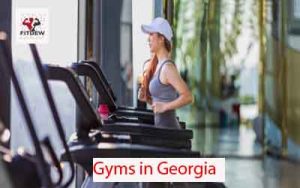 Bar Fitness
At The Bar Fitness, they are focused on your health from the inside out.  They offer a variety of HIIT, strength, and functional training classes led by certified instructors.
If you're looking for a combination of cardio-based workouts and strength training they are your spot with a variety of classes every week.  They also offer smoothies and juices made with no additives, no preservatives, and no sugary syrups.  All real natural fruits and vegetables only.
Their offerings
Free weight
Nutrition
Personal trainer
Group class
Semi-private training
Healthy smoothies and more
Location:  101 Lochlyn Place Suite E Bonaire, GA 31005
Phone: 478 461 1406
Email: thebarfitnessultd@gmail.com
Conclusion
Having the knowledge of gyms in Georgia will help you as a resident make the best decision when it comes to choosing a gym where you can work out with guidance.
Remember keeping fit is essential and this can be done with ease with the help of trainers at a gym if you wish to carry it out with guidance.
Editor's pick
5 Reasons why exercise is important