In today's blog post, we will discuss about the Gyms in Buffalo New York. If you are interested in knowing about the gyms in Buffalo where you will have access to the best gym equipment and expert advice on fitness that you need to achieve your fitness goals, read the content till the last dot to get access to the information. You can check out here for content on 5 Top Gyms in Albany New York and 6 Best Gyms in Brooklyn New York.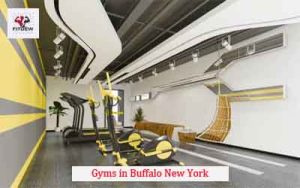 Things to Check out before joining a gym
Before you join a gym, you need to check out for some things to be sure you can achieve your fitness goals in the gym you select. Here are some of the things you need to check out before joining a gym.
Location
The location of the gym is very important. Think of this, when you work out in a gym closer to your home, you enjoy your workout more because there won't be stress while you get to your gym.
Ensure the location of the gym you will select for your workout is convenient for you so you can have the best workout experience.
Time
Ensure you go to a gym the time suits your schedule. Make sure that the gym is available for all the times and days you have planned for your workout.
You can check out here for more information on What to look for when joining a gym.
Now let's talk about the fitness centers.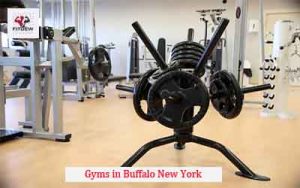 Gyms in Buffalo New York
Here are Fitness Centers in Buffalo
Run City at Ellicott Square Fitness
About the Gym
Run City at Ellicott Square is Buffalo's premiere running studio located in the heart of downtown Buffalo in the historic Ellicott Square building. They are also a commercial gym with competitively priced membership plans and are open 24 hours a day, 7 days a week. Their gym is always convenient for you to get your workout in.
Their Classes
Walk and run
HIIT and run
Just the HIITS
In the need for speed
For information on their membership plans click here
Address: 295 Main Street Buffalo, NY 14203
Phone: (716) 331-2472
Tailored Fitness
About the Gym
At Tailored Fitness, they believe that getting yourself back to work means setting your own pace. You can start your fitness journey with them today.
Their equipment
Battle Ropes & Pulleys
Squat Rack
Barbells & Bumper Plates
Free Weights
Weight Benches
Pull-Up Bar
Plyo Boxes and more
Their Classes
Slow + steady
Stretch it out
Strength + tone
For information on their membership plans and more information on their classes contact them
Address: 4525 Main St. Amherst New York 14226
Phone: (716) 698-3866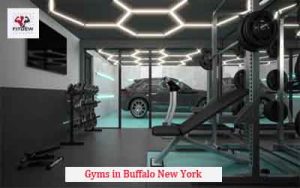 Sweat Society
About the Gym
At Sweat Society, their first floor features a classroom studio, and the second floor features a full-service open gym along with personal training.
Their open gym floor is packed with a lineup of cardio and strength training machines, a functional training rig, and a turf run as well and private showers are open daily for members from 4:30 am – 11 pm.
Their Classes
For their membership plans click here
Address: 1585 Hertel Ave. Buffalo, NY 14216
Phone: 716.510.7936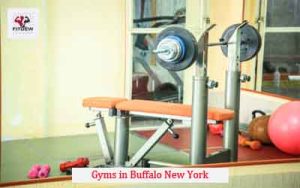 Advantages of Workout in the Gym
Here are some of the key benefits of working out in a gym
Access to a variety of equipment: Working out in the gym gives you access to a wide range of exercise equipment, including cardio machines, strength training machines, free weights, and functional training tools. This variety allows you to engage in diverse workout routines and target different muscle groups.
Expert guidance: Many gyms employ certified personal trainers who can assist you in creating a customized fitness plan and teach you the right exercise techniques. They can provide guidance, motivation, and support to assist you to achieve your fitness goals safely and effectively.
Consistency and routine: A gym provides a dedicated and structured environment for your workouts, which can help establish a regular exercise routine. Consistency is essential for achieving and maintaining fitness gains.
Social interaction: Gyms often attract a community of like-minded individuals interested in fitness and health. This social aspect can provide motivation, accountability, and the opportunity to make new friends who share your fitness goals.
Safety and supervision: In a gym, you can work out safely with access to equipment that is well-maintained and regularly inspected. There are also staff members available in case you need assistance or encounter any issues.
Climate control: Gyms offer a climate-controlled environment, making it possible to exercise comfortably year-round, regardless of the weather conditions outside.
Personalization: Many gyms offer a variety of classes and programs that cater to specific fitness goals like weight loss, muscle building, or flexibility. You can choose classes that align with your objectives.
Tracking progress: Gyms often provide tools and technology for tracking your fitness progress, such as fitness apps, body composition assessments, and workout logs. These can assist you in staying motivated and monitoring your achievements.
Time efficiency: Gyms allow you to optimize your workout time by minimizing distractions and providing all the necessary equipment in one place, which can be especially beneficial for those with busy schedules.
Mental health benefits: Regular exercise at the gym can improve mental well-being by reducing stress, anxiety, and depression. The release of endorphins during exercise can boost your mood and enhance overall mental health.
Goal setting: The gym environment encourages setting and working toward fitness goals, whether it is lifting heavier weights, running longer distances, or achieving specific body composition objectives.
Convenience: Many gyms have extended operating hours, allowing you to work out at a time that fits your schedule, and some even offer 24/7 access.
Remember that you are not the only one working out in the gym, so while you work out ensure you follow the right gym etiquette so every other person in the gym can as well maximize their gym time. You can get here for Gym Etiquette: Dos and Don'ts for a Positive Workout Environment.
Conclusion on Gyms in Buffalo New York
Knowing fitness centers in Buffalo New York as a resident will help you in your decision of the best gym suitable for you to achieve your fitness goals.
While working out is good, ensure you don't get addicted to exercising. You can check here for more information on Exercise addiction symptoms so you will understand how to avoid getting addicted to it.
If you are still bothered about how frequently you should be in the gym, check out this content How many times a week should I go to the gym?
Remember it takes consistency to get the results you want. So be committed to your gym routine to achieve your fitness goals.
Frequently Asked Questions about Gyms
How do gym memberships work?
Gym memberships typically involve a monthly or annual fee that grants you access to the gym's facilities and equipment. Some gyms offer different membership tiers with varying benefits.
What should I consider when choosing a gym?
Consider location, hours of operation, cost, available equipment, cleanliness, and the types of classes and services offered when choosing a gym.
How much does a gym membership cost?
The cost of a gym membership varies widely, from budget-friendly options to more expensive facilities. It depends on the gym's location and the services included in the membership.
Do gyms have personal trainers?
Many gyms offer personal training services for an additional fee. Personal trainers can help you create a personalized workout plan and provide guidance.
What should I wear to the gym?
Wear comfortable, moisture-wicking workout attire and supportive athletic shoes. You may also want to bring a towel and a water bottle.
Recommendations