What do you know about Gyms in Arizona?
Read till the last dot to get all the available information about them.
When people become more confident in themselves, everything about them changes. If your body changes, it affects your attitude, mentality, and even your outlook positively on life, it changes everything and that's what a gym is there to help you achieve.
Gyms in Arizona
Here are a few gyms in Arizona
1. Muscle Factory Gym
About the Gym
The mission at Muscle Factory Gym is to provide a positive and effective environment for everyone to train in, whether beginner or pro.
They designed the gym around the premise that great people deserve a real gym that takes their training lifestyle seriously and gives them the tools and the atmosphere they need to crush their goals.
If you desire an incredible selection of equipment and a place to train hard with a bunch of great people doing the same, then Muscle Factory Gym should be the gym for you.
Their facility
Muscle Factory Gym is a 12,700 sq ft fitness facility with onsite locker rooms and showers. The gym provides 24/7 access to members and they offer a  combination of bodybuilding, powerlifting, and athletic training.
They hand-pick the best gym equipment from Arsenal, Atlantis, Elite FTS, Hammer Strength, Legend, Rogue, Life Fitness, Nautilus, Matrix, and Precor as well as classic pieces from legendary builders like Bodymasters, Icarian, Flex, and Paramount.
Their cardio equipment comes from Woodway, Precor, Stairmaster, Life Fitness, Matrix, and Rogue. They provide a variety of specialty Olympic bars including Deadlift, Power Bar, Safety Squat, and many more.
Membership plan
Monthly( month-to-month dues) of $39
One-time set-up charge of $60
Day Pass for $15
Week Pass for $60
Month Pass for $90
Address: 1301 E University Dr, Ste 125, Tempe, AZ 85281
Contact: (480)921-1110
2. Orangetheory Fitness
About the Gym
Orangetheory is a total-body group workout that combines science, coaching, and technology to guarantee maximum results from the inside out.
Their workout is not HIIT. It is heart rate-based interval training, where you train through 5 heart rate zones designed to charge your metabolism for more caloric afterburn, more results, and more confidence, all to deliver you more life.
Orangetheory is more than a gym because the work you do there in their studio will make all the difference out there in your world.
Their programs
Rowing
Cardio
Strength Training
Address: 753 East Bell Road, suite11 Phoenix, AZ 85022, United States
Contact: 602 292 5636
3. Fitness 1 Gym
About the Gym
Fitness 1 Gym is dedicated to making a positive difference in your life. To give you that sense of health and wellness that will not only make you look better but to feel better. Their vision is to make sure their members achieve results far beyond their personal expectations.
Their family-owned and operated clubs promote family time by offering special family packages.  Fitness 1 is large enough to accommodate all your needs, yet small enough to care.
They will always strive to do what is right. Providing total customer satisfaction, realizing if they don't, someone else will.
Their Amenities
Weight Machines
Free Weights
Cardio Equipment
Power Lifting
Their programs
Group Fitness
Personal Training and more
Address: 3515 W Union Hills Dr, Glendale, AZ 85308, United States
Contact: 602.626.8798
4. Club Cave Creek
About the Gym
The Club Cave Creek is the largest, premier, full-service fitness club located in Cave Creek, Arizona.
They pride themselves in having a beautiful environment, expert-level trainers, exciting group fitness classes, state-of-the-art equipment, and uncompromising customer service.
Their fitness team, comprised of the best personal trainers and group fitness instructors in the Valley, boasts over 200 years of combined teaching and training experience.
All of them possess a sincere passion for fitness, health, and results, as well as a shared desire to bring a family-like fitness culture to the surrounding community in Cave Creek.
Their programs
Group fitness
Club HIIT classes
Yoga
Personal training
Address: 4532 E Lone Mountain Rd #211, Cave Creek, AZ 85331, United States
Contact: 480.488.8848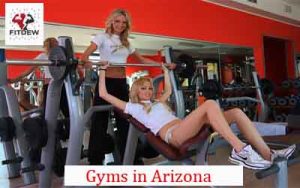 5. Die Hard Gym & Fitness LLC
About the Gym
Die Hard Gym & Fitness LLC is there to help people become better at living.
They use their years of experience to impact people who want to be better, healthier, stronger, and more impactful. They are not a country club, they are not a fitness center, they are a real gym that provides real results.
Their services
Bodybuilding diet
Bodybuilding posing
Weight loss
Powerlifting
Private training
Conditioning
Their membership plans
Monthly for $35 gives Full Access
6 months for $100 give Full Access
Annual for $185 gives Full Access
Address: 9794 W Peoria Ave # 9, Peoria, AZ 85345, United States
Contact: 623-979-5271
6. Black Mountain Fitness
About the Gym
Black Mountain Fitness is a boutique-style gym for the local community offering camaraderie, integrity, and true support. Join them and learn how to live a strong, healthy, and balanced life. Your health and wellness are their priority.
Their pricing and plans
Weekly for $30 (Individual package) Valid for one week
Monthly for $60 Every Month (Individual package)
Monthly for $110 Every Month (Couple package)
Monthly for $135 Every Month (Family package)
Discounted for $50 Every month (For Students/Veterans/First Responders)
Address: 6450 E. Cave Creek Rd, #205 Cave Creek, AZ 85331
Contact: 480-488-0444
7. Juggernaut Gym
About the Gym
Juggernaut Gym is a State of the Art, Hybrid facility, that welcomes all levels of fitness and goals.
Whether you are just beginning your fitness journey, want to work on your strength and conditioning, a bodybuilder, or powerlifter, or just need a private facility to work out at, they have the experience and equipment to help you reach your full potential.
If you are tired of those big box gyms and looking for a health and fitness community, then they would love to welcome you to Juggernaut Gym.
Their pricing plans
Open Gym Drop-in for $10 is available for those who just want a day pass to the facility. This plan gives Access to the Facility.
Private Open Gym for $60 Every month (1st and Last Month Down, Cancel Anytime). This plan gives 24/7 Access to the Facility, No Overcrowding, Rogue Equipped Facility.
Private Open Gym for $80 Every month ($80 to start month to month) no contract, Cancel anytime. This plan gives 24/7 Access to Facility, No overcrowding, and Specialty Equipment.
Personal Training for $0 (Pricing Varies, Contact them For More Info).
This is a Free Plan and gives access to Free Complimentary Session.
Address:650 N. 137th Ave Suite 170 Goodyear, Az 85338
Contact: (602)550-5821
8. Maximum Fitness Gym
About the Gym
Maximum Fitness is a state-of-the-art gym located in the Scottsdale Airpark. Maximum Fitness takes pride in getting to know its members.
Their staff and professional personal trainers encourage an atmosphere where members feel supported in accomplishing their fitness goals.
Max Fit is your neighborhood gym with a personal feel. They take your fitness seriously because they believe in protecting their greatest asset: their bodies.
They began operating in 2002 with a mission to provide Scottsdale residents with a gym focused on health, fitness, athletic training, and well-being for everyone.
Max Fit has grown over the years but embraces their long history of excellence in the Scottsdale health & fitness market.
They think of their clients as part of their family and they are not one of those corporate or franchised gyms out there who only want to sign you up for some long-winded, hard-to-get-out-of-contract.
With Maximum Fitness, there are no long-term commitments. That's why their clients have been clients for years with them.
Their gym is a 16,000-square-foot facility. That is to say you have as much room as you want to work out. It means you are never walking around people or feeling like you are shoulder-to-shoulder with someone else.
It means you will not have to wait for a machine while someone decides to sit and take a rest break on it.
Address: 8551 E Anderson Dr, Scottsdale, AZ 85255, United States
Contact: (480) 248-6534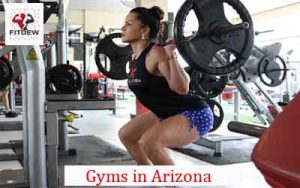 EōS Fitness
About the Gym
EōS Fitness Phoenix – Cactus Rd/Cave Creek is your haven for serious fitness.
Finally, you've found a fitness center near you in Phoenix, AZ, that offers a high-energy environment, tons of fitness equipment, dumbbells that go up to 150 lbs., cutting-edge machines, and amenities designed to get you optimal results.
And with over 60 group fitness classes a week, you can keep your workout fresh while crushing your goals.
Their Amenities
Cardio with TVs
Certified personal training
Free weights
Locker rooms with showers
Tower service and more
Membership plan
They believe their members deserve a choice when it comes to picking the right gym plan. That's why at their fitness center, they offer three-month-to-month gym membership options starting at just $9.99 a month.
Membership benefits       
Open 24 Hours a Day
Access to Cardio & Strength Equipment
Complimentary Welcome Workout
MOVEōS Cinema (watch a big screen movie while you work out)
Swimming Pool and Hot Tub
Group Fitness Classes
Yoga Classes and more
Address: 12211 N Cave Creek Rd Phoenix, AZ 85022
Contact: (602)654-4430
Independence Gym
At Independence Gym, they all share one common goal and that is to get better each and every day.
Most people might think of them as an advanced gym. Their answer to that is every single person in this gym started somewhere. Not one person came into this world in shape or with abs.
They have put in the work each and every day. The motivation and comradery that resides inside Independence Gym is what keeps their members and guest coming back.
Not to mention they have the widest array of equipment you will find at any other facility.
They have 3 Olympic platforms, 40-yard turf, a vertical leg press, 2 Stairmaster Hitmill X's, and a Pit Shark (belt squat machine) just to name a few things.
Independence Gym is not just about fitness. It is about giving people the opportunity to become better versions of themselves.
They take pride in the fact that has become their members' second home, their sanctuary. It is where they come to get away from the real world. Independence Gym is a place where they feel comfortable, confident, and accepted.
Address: 2980 N Hayden Rd, Scottsdale, AZ 85251
Contact: (480) 305-6410
Conclusion
Having knowledge of gyms in Arizona as a resident helps you in decision-making about where you can go for your fitness and regular workouts.
Remember exercise is good for your body. Whatever reason for which you want to keep fit, remember you can actualize it by consistency.
So, while you start out, be determined to be consistent.
 Editor's pick
Essential gym equipment for home