What do you know about Gyms in Illinois?
Read till the last dot to get all the information you need about them.
Going to the gym is profitable for all ages, sizes, and gender.
Gyms in Illinois
Here are a few gyms in Illinois to help you stay fit and in shape
1. Mode Gym 
About the Gym
Mode Gym is a 24-hour Fitness Club oriented to cover your all-around wellness and fitness routine.
They start with 3D body fat testing and a nutrition assessment then continue with their elite personal training programs, exclusive group classes, and aerobic exercises, all involving cutting-edge equipment that will blow your mind.
All these services added to their state-of-the-art facility make their gym the most unique one in Chicago West Loop.
Their services
Personal Training
Strength Training
Aerobic Exercise and more
Address: 1301 W. Madison Ave. Chicago IL, 60607
Contact: (312)626.6633
2. Lakeshore Sport & Fitness
About the Gym
LSF@IC features the best option for fitness classes around with studios dedicated to HIIT, cycling, yoga and Pilates and the largest main studio around all with the best equipment, you have all the options in one building easily accessible from the pedway.
Their schedule features over 100 weekly classes scheduled when you need them and half-hour classes for when you have limited time.
LSF is massive so you will never feel crowded.
They feature elevated locker rooms with all the recovery options you need, including steam, sauna and whirlpool as well as executive and VIP locker rooms which feature more privacy, dedicated lockers and laundry service.
For their family memberships, they offer complimentary childcare, a playroom where you can play with your children, Parent's Night Out, play dates, and a robust set of options for kids activities and lessons including basketball, swimming, squash, climbing and more.
Membership Inquiry for Illinois Center
All memberships come with access to the entire facility, including multiple boutique studios (cycling, yoga, Pilates, HIIT) offering complimentary weekly group fitness classes, strength training weight floor and cardio centers, spacious functional training areas, indoor running track, indoor rock-climbing wall, pickleball, 5 squash courts, 8-lane indoor lap swimming pool and rooftop pool, the nicest indoor basketball court in Chicago, and more.
Members also enjoy steam rooms, sauna, and whirlpools along with complimentary towel service, including cold eucalyptus towels, and all shower amenities.
LSF at Illinois Center is the health club that has everything you need to reach your goals. Plus, they offer a 14-day money-back guarantee and your first month of TeamX unlimited group training free.
LSF Illinois Center Offers Multiple Levels of Membership
Standard Membership includes access for one adult to all facilities and complimentary classes, a complimentary onboarding session to develop a plan to make the most of your membership, a complimentary 1-hour personal training session, a complimentary squash rating, a complimentary injury screening, and half-off of your first Spa service.
Executive Membership includes all the Standard membership benefits, plus access to the Executive locker room, a private half-height locker, the use of our secure bike storage area, as well as complimentary use of the squash courts, climbing wall, and golf simulator.
VIP Membership includes all the Executive membership benefits, plus access to the VIP locker room, including the steam room and whirlpool, a private full-height locker, laundry service, and other premium locker room amenities in addition to complimentary use of the squash courts, climbing wall, and golf simulator.
Couple Membership includes all the Standard membership benefits for up to two adults in the same household.
Single Parent Membership includes 1 adult and children under 18, includes all Standard membership benefits, complimentary daily childcare up to 2 hours Monday-Saturday, access to family play space, and member pricing for children's programs and events.
Family Membership includes all the Single Parent membership benefits and one additional adult.
Address: 211 North Stetson, Chicago, IL 60601
Contact: +1 312 856 1111
3. Chicago Sports & Fitness Club
About the Gym 
Chicago Sports & Fitness Club is the premier fitness facility in Joliet, IL offering more amenities than any other club in the area. Their amenities include
75 cardio machines including treadmills, stair masters, ellipticals, bikes and more.
15,000 sq. ft. of lifting space with the latest free weight equipment and machines from Arsenal Strength, Hammer Strength, Rogue, EliteFTS, and more.
Full  Outdoor Gym.
MegaSLAM FX Basketball System with 180 Pro Rim.
Multiple Functional training Areas.
Swimming Pool.
Powerlifting Studio.
Experienced Personal Trainers.
Studio flex Salon.
Swimming Pool.
Boxing Studio with boxing ring
Powerlifting Studio and more
Address: 2701 Black Road Joliet IL 60435
Contact: (815) 630-5150
4. 121 Fitness Mt Zion
About the Gym
121 Fitness is a state-of-the-art fitness center offering the best in cardio-vascular, circuit training, free weights, and group fitness classes. You will love their comfortable and welcoming atmosphere.
They offer an exciting personal training program. You will receive one-on-one attention, from an initial fitness and nutrition assessment to personalized workout routines. Your trainer will motivate you to the fullest extent to help you achieve maximum results.
Membership packages
Monthly Membership (Electronic Funds Transfer) From checking, savings or credit card
1 Person $36/month
2nd Person + $19/month ($55)
3rd Person or more + $15/month ($70)
Address: 1033 N. Hwy 121 Mt. Zion, IL 62549
Contact: 217-864-5000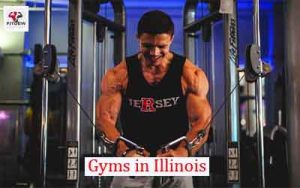 5. Wicker Park Fitness
About the Gym
Wicker Park Fitness has been a staple on Division Street for over a decade. They are the only neighborhood gym in Wicker Park and provide locals a place to work out without the higher price-tag and hassle of bigger chain gyms.
They are Independently and employee owned, their goal is to provide an affordable, accessible, and welcoming destination for their neighbors to work out and achieve their fitness goals.
They offer personal one-on-one training from their best-in-class trainers. They realize that their clients have more choices than ever for gyms and fitness programs.
Wicker Park Fitness Membership Plans
Platinum Plan (monthly gym membership) for $49.95/month
$50 initial investment, Cancel at any time (30-day notice)
$25 annual maintenance fee (billed on 3rd month of membership)
Annual Plan (12-month Paid-in-full membership) for $499/year
No initiation/setup fees, Access to Wicker Park and Southport locations and saves you $150 compared to monthly plan. $25 annual maintenance fee (billed on 3rd month of membership)
Address: 1735 West Division Street Suite 100 Chicago, IL  60622
Contact: (312) 363-3223
6. Cheetah Gym
About the Gym
They offer a contemporary and warm environment in which you can focus on your personal wellness.
Cheetah Gym Andersonville provides state-of-the-art equipment, the best training professionals in the industry, and numerous amenities and services to cater to your wellness and your lifestyle.
Their Program Pricing
Team Training for $75 (1 Hour)
$435 for 6 Pack
$839 for 12 Pack
Tandem Training for $105 (2 Members, 1 Hour)
Advanced Training for $85 (1 Hour)
$495 for 6 Pack
$959 for 12 Pack
Tandem Training for $115 (2 Members, 1 Hour)
Master Training for $95 (1 Hour)
$555 for 6 Pack
$1079 for 12 Pack
Tandem Training for $125 (2 Members, 1 Hour)
Pre/post-Natal Training for $85 (1 Hour)
$495 for 6 Pack
$959 for 12 Pack
Address: 5248 N. Clark, Chicago, IL 60640
Contact: (773) 728-7777
7. Guardian Fitness
About the Gym
At Guardian Fitness, their mission is to encourage a healthy and stress-free lifestyle in every client and member by using functional training, nutritional education, accountability partners, and fitness motivation in a fun environment.
They offer classes for everyone throughout the day, and each class is capped at 18 members so everyone can get the individual attention they need.
Steve Starks started Guardian Fitness in 2010 as a mobile training program. Since then, Steve and his wife Latarius Starks have built Guardian Fitness into a thriving community of fitness and health in the Peoria area.
Their Amenities
Group Training Room
Private Training Room
Meditation Room
Nutrition Room
Sauna
Membership Weight Room
Their membership plans
Monthly Membership for $30.00 (Every month)
$300.00 for Every year
Address: 2201 W. Townline Road Peoria, Illinois 61615
Contact: +1 309-691-4348
8. Tmtz Fitness
About the Gym
Tmtz Fitness is a premier, 24/7 fitness center providing a professional line of cardio & strength machines, dumbbells and Olympic benches.
They also offer (no membership needed) personal training, tanning, massage therapy and a variety of group classes.
Tmtz Fitness utilizes MindBody software, one of the largest and most reputable gym management systems in the industry.
Address:  124 E Fort St. Farmington, IL
Contact: 309-245-4307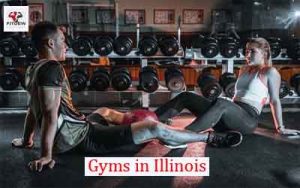 9. RiverPlex Recreation and Wellness Center
About the Gym
This state-of-the-art medically-based fitness center is fully equipped with a variety of the latest cardio machines.
Their weight room gives you access to the latest plate-loaded machines, selectorized machines, and free weights. Their indoor four-lane, 1/8-mile track can accommodate both runners and walkers.
The RiverPlex offers over 130 group exercise classes a week at no extra cost with membership, including all Les Mills classes, such as GRIT, WERQ, Yoga, and Tai Chi.
Their Facilities
Climbing Wall
Rentals
PlayHouse at the Plex and more
Their Membership plans
Adult for $50/Mo
Couple for $70/Mo
Household for $80/Mo
Single Parent for $60/Mo
Senior Individual for Age 62+ for $37/Mo
Senior Joint for Age 62+ for $58/Mo
30 under $30 (ages 18 – 29) for 29/Mo
Youth (ages 12 – 17) for $22/Mo
Law Enforcement/Firefighter/Clergy Individual for $24/Mo
Law Enforcement/Firefighter/Clergy Household $44/Mo
Discounted Pricing: STYKU Digital Body Scan for Every new member at $44/Mo
All RiverPlex memberships gives access to the following
Fitness Center
Elevated 1/8-mile Indoor Track
Group Exercise Classes
Members Gym
Locker Rooms, Steam Rooms, and Sauna
Access to the Greater Peoria YMCA.
Members also receive reduced pricing on
Day Camps
Swim Lessons
Personal Training
Small Group Training
Semi-Private Training
Nutrition Coaching
Les Mills on Demand
Address: 600 Northeast Water Street, Peoria, IL 61603
Contact: 309-282-1700
10. Titan Fitness Peoria
About the Gym
Titan Fitness Peoria is the flagship location and headquarters for Titan Fitness. This is the first of 3 locations in the Illinois area and started operations in 2006.
As they continue to grow, so do the amenities as they turn this location into the premier 24 /7 gym in the Peoria area. Titan Fitness in Peoria is the premier 24/7 gym in the area with loads of equipment and training options.
Their services and Amenities
24/7 Member access
Free weights and machines
Cardio equipment
Functional Training area
Personal training
Small group training
Group classes
Tanning
Childcare
Smoothie Bar
Their Classes
Les Mills
Fitness on Demand
Fit Over 50
SilverSneakers
Titan Fitness Boxing
Address: 7620 N University St Peoria, IL 61614
Contact: (309)966.2717
Conclusion
We hope you check out any of these   gyms around you that provide the comfort you are looking for and help you achieve your goals.
Always work towards keeping fit at every point. Fitness is good for your well being
Editor's pick