Gym provides a fun-filled yet focused environment to keep fit. Any age, size, or person can go to the gym, contrary to popular belief that only fat people visit the gym. The gym is for everyone in need of staying fit.
Gyms in Hawaii
Here are a few gyms in Hawaii
1. Iron Hawaiian Fitness (Hawaiian Iron Paradise)
About the Gym
Iron Hawaiian Fitness was founded by Marc Kenolio, an Oahu native, in 2011. In 2012, Marc moved his small one-on-one personal training studio to a 12000sq.ft. space and decided to expand by allowing independent trainers to pay a fee to train their own clients.
They have everything you need to train. Though they have made upgrades year after year, IHF offers a unique experience, in that, they may not always have the newest stuff, but cater to those who go to the gym on a mission.
From Powerlifting to Bodybuilding, Fitness Enthusiasts to Professional Athletes, they hand-select every piece because it's what works best.
They have created an atmosphere to keep you focused but make sure you feel at home.
Their Amenities
Restroom
Water Fountain
Pro Shop
Towel Service
Cardio Equipment
Free weights
Resistance Machines and more
Membership plans
Hawaii resident (Month to month) for $80
Non-resident (month to month) for $120
Weekly pass for $60
Daily pass for $20
Trainer client membership for $40
Address: 1727 Republican St. Honolulu, HI 96819
Contact: 808-291-0262
2. Flexx Fitness Hawaii
About the Gym
Flexx Fitness is Oahu's newest, top-of-the-line gym with both an indoor and outdoor setting and the gym opened in August 2020.
Their gym features committed team members and trainers, as well as state-of-the-art equipment from Realleader USA, all dedicated to making your workout experience the best it can be.
They are proud to announce their strength and conditioning training for youth and young athletes.
Personal training sessions are led by Coach Chris Faildo and are available for individuals or groups. A variety of dynamic and static exercises are used to improve overall physical performance.
Their Membership plans
$29.99 for the Monthly plan (2-year agreement. Plan comes with two (2) one-hour personal training sessions).
$39.99 for the Monthly plan (1-year agreement. Plan comes with one (1) one-hour personal training session).
$85.00 for the Monthly plan (Month-to-month Agreement. Cancel at any time).
$550.00 for 12 months (1-Year paid in full. Plan comes with one (1) one-hour personal training session).
$800.00 for 24 months (2 years paid in full. Plan comes with two (2) one-hour personal training sessions).
Address: 650 Iwilei Road, Suite 125A Honolulu, HI 96817
Contact: (808) 888-0848
3. Powerhouse Gym Aiea
About the Gym
At Powerhouse Gym Aiea, they are results-oriented and trainer generated. In other words, their focus is the same as yours to get you good health, fitness, and weight-loss results.
When it comes to achieving those results, a qualified personal trainer coming alongside you to guide you through the process ensures the best results.
They are open 7 days a week for your convenience. They have a spacious 20,000-square-foot fitness center, beginners' area, and safe and affordable childcare.
Address: 98-199 Kamehameha Hwy, Aiea, HI 96701, United States
Contact: (808)484-8000
4. F45 Training Hawaii Kai
About the Gym
F45 Training workouts are designed to unify the muscle groups of the body and to help make you feel and perform better in all aspects of your life.
The gym is specifically designed to provide a functional full-body workout while improving energy levels, metabolic rate, strength, and endurance.
The team mentality at F45 Training helps members transform their lifestyle physically and mentally while encouraging community growth and a no-ego attitude.
Address: 377 Keahole St, Honolulu, HI 96825, USA
Contact: (808) 694-0080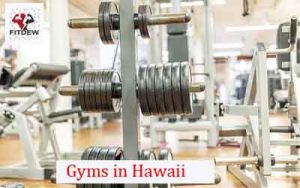 5. Honolulu Fitness Center
About the Gym
Honolulu Fitness Center offers clean high quality fitness equipment in a workout friendly environment.
Their members enjoy the private gym vibe with space to do your thing. No hassle. Whether you pump iron, run, TRX, or just like to go at your pace, they have got you covered.
For their membership plans click here
Address: 820 W. Hind Drive Honolulu, HI 93821
Contact: (808) 377-3100
6. Fitness Forever
About the Gym
Fitness Forever started with the Kailua-Kona facility establishing itself as a premier gym on the island then expanded in 2020, focusing on communities in need of a space to work out.
To aid in this expansion, Sandra Fraser and Jack Rozell, came aboard to run the gym operations. First came the Puna location at Puna Kai Shopping Center and Waikoloa is next, with the sparkling new facility set to open its doors in Fall 2021.
The philosophy has always been simple and they are sticking to that formula: fitness for everybody, done the right way.
They have invested in top-of-the-line equipment and technology to make the most of your time in the gym.
From group training classes to their on-site health experts and personal trainers, there is a bevy of ways for you to reach and crush your goals.
And their committed Fitness Forever ohana will be there cheering you on every step of the way with a genuine passion to see you achieve the best version of yourself.
Their facilities
Cardio section
Machine section
Free weights
Address: 75-5597 Palani Rd, Kailua-Kona, HI 96740, United States
Contact: (808) 334-1243
7. Dynamix Health & Fitness
About the Gym
Dynamix Health & Fitness is a private fitness studio located within the heart of Kaka'ako offering one-on-one personal training and group fitness classes.
They specialize in fitness transformations and implementing lifestyle changes that will stick for life. They believe that kicking butt should be fun not a chore.
The gym specializes in fun workouts with dynamic programming that is always changing. They have built a fitness community that believes the same, making Dynamix a great choice to make friends, get fit, and lose weight.
Address: 814 Waimanu Street, Honolulu, Hawaii 96814, United States
Contact: (808)594-3402
8. CrossFit Hawaii
About the Gym
CrossFit gym was founded in 2007 by owner and avid CrossFitter, Coach Kimo Kockelman.
They are a gym, a community, and a family that does not judge you based on what you can or cannot do, but on what you believe you can and will do.
From start to finish, they work their butts off to help each member achieve the results they desire and reach their individual goals.
Their coaches are committed to helping their members improve their lives.  Each coach is passionate about CrossFit and is constantly seeking new ways to become better teachers and trainers.
Address: 883 Mission Ln, Hon, HI 96813
Contact: (808) 256-5665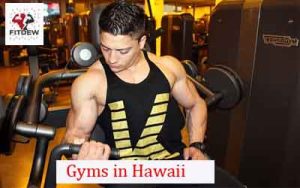 9. UFC gym
About the Gym
UFC GYM was founded in 2009 as the first major brand extension of premium global sports brand and premier MMA organization, UFC. A close partnership continues, ensuring cutting-edge training techniques are accessible through UFC GYM programming.
The gym is a premier fitness facility with ample room to bring the best in total body health under one roof. Here, members get access to the gambit of UFC FIT offerings including robust cardio equipment, coach-led group classes, weightlifting and free weights, martial arts and MMA-inspired fitness training, martial arts equipment, youth programming, personal training, yoga, Pilates, and so much more.
Their Amenities
Bag Room
Brazilian Jiu-Jitsu
Locker Rooms
Turf
Mixed Marial Arts Classes
Olympic Lift Platforms
Strength Training Equipment
Cardio Equipment
Free Weights
Gym Store and more
Address: 805 Pohukaina St Honolulu, HI 96813
Contact: (808) 672-2655
Conclusion
The gym provides necessary equipment that you will be needing but do not have access to, and still provide a space to connect with people while you keep fit.
There are so many reasons to visit a gym. Check out any of these ones that is around your area in Hawaii and stay fit.
Editor's pick